(Page 1 of 1)
Leading-Drummer Graham Brown has been summarily sacked by Pipe-Major John Cairns, possibly leaving the Grade 1 Peel Regional Police Pipe Band without a drum section.
According to sources, Brown was asked to resign from the band on the morning of August 20th, little more than a week after the band made the Grade 1 Final at the World Pipe Band Championships, with its drum section placing second in the Qualifier round against 17 other bands.
Peel went on to place eighth and thirteenth in drumming in the MSR and Medley events, respectively, in the 14-band Final.
"I can confirm that Graham Brown is no longer with the Peel Regional Police Pipe Band, Cairns said. "We thank him for his time with the band as lead-drummer and we wish him well with his future endeavors. As to where we go from here
THIS DAY IN HISTORY:
November 1, 1990
Bob Hardie dies.
TOP STORIES
Articles from the last three months with the highest overall ratings by readers.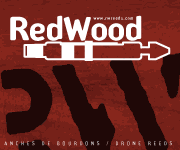 MOST RECENT POST
Hatred unwelcome

Fri, 24 Oct 2014

The Highland pipes draw attention. The volume and distinct sound of the instrument – especially when played poorly – get a reaction from people, so pipers are often seen in protests and parades. Pipers who work their entire lives …
Read more »
UPCOMING EVENTS
November 8, 2014
PPBSO AGM and GALA
Best Western Brant Park Inn, 19-Holiday Inn Drive, Brantford
November 15, 2014
Angus Macdonald Championships
Lakeside, CA
November 21, 2014
2014 Balmoral Classic
Pittsburgh, PA
November 23, 2014
Scotch Tasting Fundraiser
14200 Green Timbers Way, Surrey.
February 25, 2015
Red Hot Chilli Pipers
The Venue, Peterborough, Ontario
TIP OF THE DAY
There are a myriad of ways to manipulate reeds. Unless a reed scores favourably to start with there's probably not a lot that can be done however. Be fussy with reed selection and get lots of them to choose from.
Stewart MacKenzie, P-M, Manawatu Scottish
FROM THE ARCHIVES