THIS DAY IN HISTORY:
September 16, 1971
James McIntosh wins Gold Medal, Inverness, with "Tulloch Ard".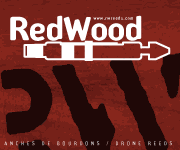 MOST RECENT POST
Instant replay

Wed, 3 Sep 2014

This year marks the fortieth anniversary of the Great Tape Scandal of Inverness. In 1974, Bill Livingstone's second-prize in the Highland Society of London's Gold Medal was rescinded after Lezlie Webster (nee Patterson) produced a …
Read more »
TIP OF THE DAY
To ease the blowing-in period of a chanter reed, simply press the reed firmly in the lowest part of the blades between the finger and thumb until you feel both blades ease gently together. Continue to do this and keep blowing the reed until you find the reed giving an acceptible weight.
Tom McAllister, Jr.
FROM THE ARCHIVES