Is the World's killing the pipe band world? Part 1
There are cries from some for limitations to be put on the size of pipe- and drum-sections within bands. But unless the RSPBA and, thus, the World's, starts the process, no association will willingly curtail the competitive chances of its member bands, and its members would not approve it anyway. So while the World's thrives, the world's associations increasingly struggle due to the pressure for bands to field large numbers. Conceivably, if section numbers were capped, then almost overnight dozens of bands struggling for personnel would be helped, or altogether new pipe bands would be started.
"For me, a cap on player numbers would greatly help to level the competitive playing field in this respect," continued MacLean, "and this is where the World's may well have its greatest impact. Not wanting to disadvantage their top member bands at the World's, I believe associations take their lead from the RSPBA here and a maximum cap will only be put in place generally if the Scottish association does it first. In that one respect at least, the World's and the RSPBA affect us directly."
"Limits on sections or rosters in bands I think would be a good idea, but impractical for a couple of reasons," said one prominent Canadian pipe band judge who spoke on condition of anonymity. "There probably would be very little chance of getting a pipe section limit small enough to have any real effect, and bands would easily find a way to get around roster limits by having a second band of some grade."
The predicament in Scotland is somewhat different. While today there are 10 Grade 1 bands based in Scotland, representing a much larger pool in a smaller geographical area, that's down from 13 in 1966 and far fewer than the 15 or so in the 1980s. There are bigger bands, but fewer of them.
"I've not had many players lured to other bands, but that would not bother me as they would only move if they were unhappy," said the pipe-major of a Scottish Grade 1 band that does not regularly make prize-lists at RSPBA major championships. "Several of my team have been approached but stayed loyal as they can see the 'bigger picture.' I think the corps should be capped at 20 for the pipes and 12 for the snares.  This would share the wealth."
Certainly a large pipe band can be a glorious thing, presenting new musical possibilities. But is an SFU or SLOT or FMM of 23 pipers and 10 snares any more memorable than the Strathclyde Police of the late-1980s with 14 and six?
Mercenaries
Within the last few years there a trend has emerged: the mercenary pipe bandsman. With the pressure for top bands to field larger sections, some pipers and drummers routinely hook up with a different Grade 1 band if their usual Grade 1 band isn't competing at the World's. They increasingly do this just in time to satisfy the RSPBA's two-week release policy. They learn up the music for the temporary band and often have their travel to Scotland covered in return for lending their services at the World Championships. When the World's is finished, they go back to their usual band.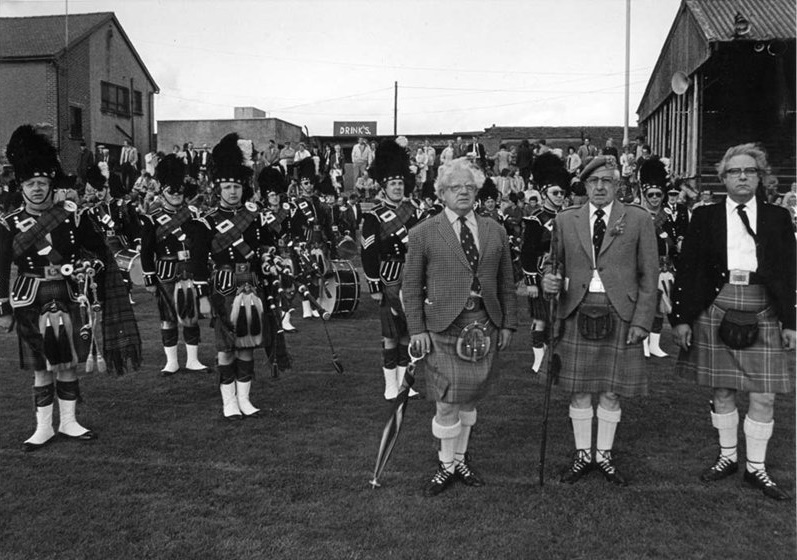 There's nothing in the rules to prevent this action, and lending a hand to a group of friends and enjoying playing at the World's should not be condemned. As long as the rules permit it, the temporary guest player routine is permissible.
That said, it probably does not foster camaraderie in the band the player left. After all, aren't these pipers and drummers helping the competition? Yes, they're not competing against one another on the day, but the two bands are in competition overall, and the sharing of players across a grade breaks down an unwritten – once sacrosanct – pipe band rule: you commit yourself to one band and you don't help the enemy.
Perhaps no place has the effect of players-for-hire been felt more than in New Zealand and Australia. Because of the massive financial burden of getting to Scotland from the other side of the globe, most antipodean bands can make it there once every few years. And because their outdoor competition seasons are, literally, polar opposites, members routinely cross-pollinate from bands not attending the World's to those that are. The local and RSPBA rules permit such temporary transfers, and in those countries the practice has become commonplace.
But at what cost? While one can contend that the inter-band swapping of players results in more camaraderie, it can also be said that a band's sense of personality and pride is diminished. The fealty to the band and the team spirit that comes with it through competitive rivalry may go against a commitment to create something unique and special over a long period of time. The drive to do well at the World's this year can result in a short-sighted, fleeting burst of quality, but perhaps little else.