Kintail Bagpipes ca. 1985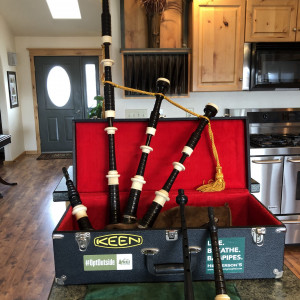 1985 set of African Blackwood, fully combed and beaded, Kintail bagpipes.  Pipes are in excellent condition and have only had (3) owners.  Current owner has been playing them for 15 years.  All owners are band members/experienced pipers.  Selling them because I recently got a new set of pipes and am not playing them much.
Pipes have imitation ivory mounts, ferrules, caps, and come with Collared Gannoway Zipper leather bag (med.) purchased in 2019 and still like new, highlander pipe bag dressing, balance tone drone reeds (standard), and original blowpipe and chanter.  If interested, I can send more photos.
Only blemish/repair was made 5 years ago to middle tenor tuning pin (small crack).  Repairs were performed by House of Bagpipes (USA - CA), by inserting a metal sleeve.  Have had no issues since with air loss, performance etc.  Price does not include shipping.
$750.00 OBO
Price: $750.00.00
Contact: Tod McKay
Permission denied