Naill Bagpipes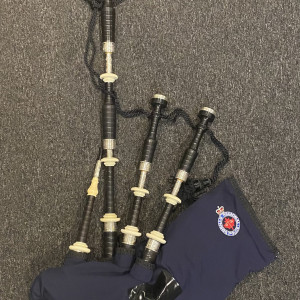 Mint condition David Naill DN5.
They are 0.925 sliver with Runic engraving and imitation mounts.
These are mid 1990's but we're refurbished by Naill last November when I came into possession of them. This includes the recent modifications Naill has made to their bass drone.
I purchased them for a band set but have came into a set of vintage Lawrie's that I'm now using.
These pipes are too good to sit around and not be played.
All the traits to expect from a set of Naill's - great tone and very steady.
Included is an African Blackwood Shepherd chanter with a nearly matching sole.
Asking $4500.00 - Canadian dollars.
These pipes retail for $5,300.00 (not including taxes and shipping).
Free shipping in Canada.
Sound clips upon request.
For an additional cost these pipes can be set up. Prices upon set up would vary.
Price: $4500.00
Contact: Mike Lasseter
Permission denied