Harry's 2015 Raspberry Awards
Published: January 2, 2016
Well, dear readers, it's been a bonny year among the heathens, I mean, heather, and Harry's got a brand new crop of Raspberry Awards for your consideration. Of course, readers will have their own thoughts, and we look forward to hearing yours. Unlike the epic fail videos that you insist on watching at work, no one here is going to hurt their head falling off a bike, but Harry's still got a sair heid on New Beers Day.
Shall we begin?
Let's . . .
The Harry Tung Erectors Award
Harry loves when people get things done, and he wants to start off this year's awards with another positive note, which is now a tradition, like drinking outside the Park Bar on the Sunday of World's week. Tip of the hat to the people at the Celtic Arts Foundation in Washington state, US of A, where they have not only done amazing programming for many years, but have recently erected a state-of-the-art Celtic Center, complete with offices, performing areas, dance floors, sound gear, a kitchen . . . this is the dream of every association, and they are living theirs. Harry has a joke about dreams and erecting, but he'll leave that to another day.
CELTIC ARTS FOUNDATION CUTS RIBBON ON MULTI-MILLION-DOLLAR CENTRE
The Harry Tung Band Management Yin-Yang Award
This has been the top positive award for the last couple of years, but Harry had to re-think things this year, and this is likely a once-off kind of thing, like the 78th Frasers (so far), Vicky Polis and the 277 Argylls winning the World's. There's no doubt that Shotts & Dykehead Caledonia were number one on Harry's list for the "Band Management Award," taking a band from outwith the prizes to winning the World's in three seasons with a fresh pipe-major and a pretty new team. Brilliant. Then, the very same leadership people all took turns fumbling the ball, picking it up, and quick-kicking it into their own goal, off the head of their own colleagues. In Chinese philosophy, yin-yang are the interconnected and opposing elements representing the light and dark of a situation, and this fits perfectly here. The amazing success was the result of the combined and interconnected efforts of an exceptional group of people, and so was the ultimate failure of the band to sustain this success with the same people. But the good news is that the existing band and those who departed have talent and ability out the yin-yang (see what I did there?), so I expect great things for all of them in 2016.
The Civil Discourse Non-Award
Following the explosion of the Shotts 2015 season, or as Henrietta liked to say, "The Shotts Heard 'Round the World," there was a proliferation of horrendous social media posts, emails and other garbage flying around from people outside the actual events. There were angry relatives, furious supporters, flaming posters and meme creators, all talking a load of tripe about events they knew little-to-nothing about. Harry had a few good reads of the loooong posts from either "side," and it was clear that they didn't really know what happened. There are still loathsome places on the net trying to "shame" people. It just happened, people, and you piling on in social media, arguing with others, or endless selfies posted with your "friends" all amount to a hill of beans, and a hill of beans is so much flatulence . . . noise without purpose that amuses some and irritates most. You know who you are – and a big, wet, stinky Raspberry to you all.
Harry's Heavy Hand of the Law Award
It just wouldn't be the Raspberry Awards if Harry didn't mention the RSPBA, and 2015 had its moments. Early in the year there was alleged heavy pressure on bands and individuals connected to the Spring Gatherin' in Northern Ireland because they were daring to do something creative that didn't follow RSPBA regs to the letter. Bands jumped back from competing faster than the beer tent crowd when someone's about to spew at close range, but it still wasn't fast enough, and at least one band was hit with the spray. C'mon, RSPBA, how about being flexible and creative, and <gasp> encouraging to groups going out of their way to promote pipe band music for the good of all?
SPRING GATHERIN' NIXES CONTESTS UNDER ALLEGED RSPBA PRESSURE
The Sad Reality Award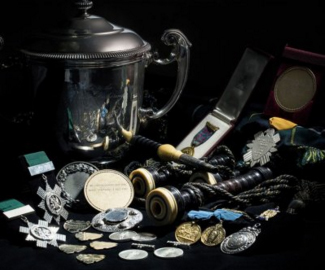 Harry, like many piping folk, was a little saddened to read that the great Donald MacPherson's medals and trophies were to be auctioned off. Generally, that means that some deep-pocketed chap will have them and no one else will get to appreciate them. As it turned out, the prices asked were above what anyone wanted to pay, and that seemed a little sad, too. Far be it from me to condemn any estate's decision to look after its money whatever way it sees fit, but here's a wet Harry raspberry to the concept of monetizing history in general, of selling back and forth the material objects so precious to the culture and history of our instrument. Having said that, Harry has a nice collection of medals for sale and a pristine, vintage set of MacDougall of Lahore pipes once played by Dick Stand, the long-serving pipe-major of the Dundee Aunties Pipes & Drums. Check Harry's eBay listing.
DONALD MACPHERSON MEDALS AND TROPHIES TO BE AUCTIONED
The Copyright Infringement Award
Harry's been on this train before, and the service is the same. Why have the RSPBA continued with their rip-off of eBay name and graphics, despite the obvious infringement? Harry thinks there must be a culture of either privilege or carelessness (maybe both) at the RSPBA Headquarters. They must know they're flouting the law, and would rather take their chances not getting a cease-and-desist-or-else from a battalion of Silicon Valley lawyers. Get with the times, people. Pay to develop and design your own ideas, pay appropriately for the music you use, and continue running those contests so spectacularly in terms of time and process. (See?! Not all bad.)
The Open Mic Amateur-Hour Award
Harry loves a good vintage recording like the rest. He listens to the London Scottish slashing through "The 79th Farewell to Gibraltar" with drums a pounding and high-G's wailing like the banshees on All Souls' Day, and enjoys the spectacle it conjures in his mind. Although not the smell. Can you imagine what the London Scottish smelled like in 190-something? Gives Harry shudders. Henrietta says, "Don't think your band gear is much better." Harry digresses. Being a lover of the old recordings, Harry has more than once gone to the Piobaireachd Society website to listen to some great players: Jimmy McGregor, Andrew Wright, Donalds MacPherson and MacLeod, Gavin Stoddart, Pipe-Major Angus, John MacLellan . . . you get the drift. In the midst of all this greatness, are a bundle of tracks of James Campbell, Kilberry, playing amateurish renditions of the great music on a sick, under-blown goose with a faulty scale. WTF? Harry doesn't see the point of this. The son of "Kilberry" (or "Kill-piobaireachd" as not a few greats reportedly referred to the collection) may have been a fount of knowledge about the tunes, a lovely man, and possibly even a reasonable judge, but he was not a player anyone needs to hear.
The "Not-Before-Time" Award
Solo piping judges in Scotland decided this year that they wanted to give the appearance of fairness in judging, and so introduced strict guidelines for judging conflicts. "Well, about time!" said Henrietta, although Harry admits that was about something else, but it totally works here, too. I understand that at least three solo judges have so far been hauled on the rug allegedly for being either drunk on the job or judging their pupils or showing up 20 minutes late for one of the biggest events of the year, while others are not paying their £10 annual dues to the association (they're too cheap, apparently). Pretty much everyone on the UK solo circuit knows who they are, too, so I will look forward to seeing how it's all meted out in 2016. Now all we need is for the pipe band world to get on board. "A relatively good judging panel" might mean something completely different in the future. In the meantime, to the parcel of scofflaw rogue judges, here's all I have to say: SPPLFFFFFFFFFSLBRBT!
SCOTLAND'S SOLO PIPING JUDGES ASSOCIATION INTRODUCES STRICT CONFLICT GUIDELINES
Harry's It Ain't Hard Enough, Gov'nor Award
It's hard to get down on any contest that tries new things so as to shake up our little world a tad. But when the Scottish Piping Society of London elected to prescribe a list of excellent-but-not-for-this-event piobaireachds that competitors were required to submit in its hallowed Bratach Gorm event, the whole idea unfortunately backfired. Normally one of the great prizes in solo piping, because of the eccentric and draconian set list of "modern" tunes, the Bratach had only six entrants, who wrestled their memories in the wake of the other Gold Medal and Senior lists. Nice try, London, but, please, consider it a lesson learned and get back to allowing our greatest pipers to shine, rather than tying them to the wheel borrowed from ye olde Tower down the way, as was the habit of the long-gone Dan Reid Memorial torture-test in San Francisco, with its lists of crappy and obscure light music that marionette-like invitees had to dance to. There is a fine line between being competition organizers and puppeteers, and pipers are not puppets.
There's the old adage, If you don't have anything good to say, don't say anything at all, and Harry knows a few pipers and drummers who'd be rendered mute if they followed that advice. So I'll end how I started, with something good. May your year be filled with all the wonders of the seasons, may your raspberries be only the kind that come with a sweet ripple of the best objectives, and may your karma always shine brightly out of your yin-yang.
Got scoop, dirt or just want to get something off your chest? Be sure to keep Harry informed with your tips and Harry promises to keep your identity confidential.
Stay tuned to pipes|drums for our Predictions for 2016!