Al-Harrassi first to Level 7 SCQF in Oman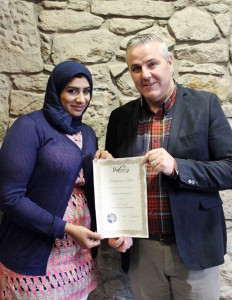 Athari Al-Harrassi has become the first person in Oman to achieve Scottish Credit & Qualifications Framework (SCQF) Level 7 certification in piping from the National Piping Centre, under the program run by Scotland's Paul Warren and Karen McCrindle Warren.
The accomplishment is remarkable in that Al-Harrassi gained the certification in a country that traditionally and culturally prefers group progression, and that she is a female in a male-dominating society who rose above her male colleagues.
The military units in Oman the SCQF syllabus since 2012, and passing each exam provides opportunity for rank promotion and salary increase. Al-Harrassi was personally encouraged by the Oman Air Force Commander to continue her studies in piping.
"Her sheer hard work and dedication have paid off," said McCrindle Warren. "Over the past three years she has refused all personal leave, stayed at work every weekend, and returned to work every evening to practice towards her exams. Athari is an inspiration, and a reminder to what can be achieved through an unrelenting sense of purpose, and pure hard work."
In addition to written material, SCQF Level 7 piping requires four MSRs, four Hornpipes & Jigs, and four piobaireachds (standard, breabach, fosgailte and crunluath a mach) to be performed. She took the exam at the National Piping Centre in Glasgow, administered by Gold Medalist Glenn Brown. All-Harrassi has received tuition at the National Piping Centre from the third of the three Brown Gold Medalists, Wilson.
Al-Harrassi reportedly plans to continue her studies in piping with a Sultan's Armed Forces Senior Instructor Course, hoping to take over from Warren, McCrindle Warren and Brown to become Head of the Omani School of Music in 2020.
McCrindle Warren added: "She is a massive source of inspiration to all in the School of Music, and we would like to collectively congratulate her on such a great achievement."