Donald MacPherson medals and trophies to be auctioned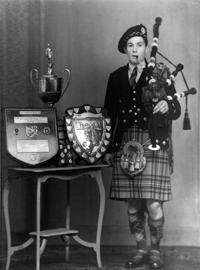 The medals and trophies amassed by the late Donald MacPherson, one of the most prize-winning pipers of the 20th century, will be put up for auction by his estate on October 14th in Edinburgh, including his Highland Society of London Gold Medals, 15 Senior Piobaireachd titles from the Argyllshire Gathering, and nine Northern Meeting Clasps, a record for the competition.
The medals and trophies will be sold as a single lot, the MacPherson estate reportedly hoping that a museum or some other institution will pay up to £18,000.
The sale will be completed by Lyon & Turnbull auction house of Edinburgh. The lot can be seen here.
Only two piping organizations would be apt destinations for the material. The College of Piping and the National Piping Centre each house a museum on their respective premises in Glasgow, but National Piping Centre Director Roddy MacLeod said the outlook does not appear good for the historic hardware to land in the Cnetre's museum, which is curated by the National Museum of Scotland.
"To be in our collection they need to be purchased by the National Museum of Scotland and they don't have the budget for it. It would be nice to have them here, but it is unlikely to happen," MacLeod said.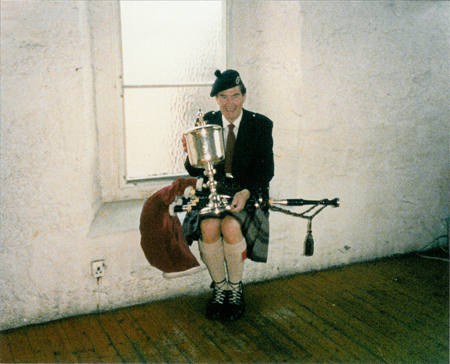 Fraser MacInnes of the College of Piping said, "I know there was chat at the College that some items would be of interest to the College, although the impression I have is that the family want to sell the collection complete and not broken up. It's certainly not on my agenda to spend money on the collection, whether the directors bid on them personally, I'm not sure."

MacPherson died on April 21, 2012, at the age of 89. The pipes that he played for most of his life were auctioned by his estate only a few months later, purchased by Peter Anderson of Australia for £29,800 ($47,366).
MacPherson was awarded the British Empire Medal in the Queen's Honours. It is not known if the BEM will be included in the auction.
pipes|drums published an extensive interview with Donald MacPherson in 2004, republished here.