Fully charged, solid and sleek
Blair Digital Chanter
Murray Blair Pty Ltd.
Melbourne, Australia
AUD$849 – $982

Reviewed by Matt MacIsaac
Electronic bagpipes have been around at least since the 1970s, when the Bazpipe was introduced in Texas. Since then there have been many different iterations of the electronic bagpipe instrument, and the newest offering is from Murray Blair of Blair Bagpipes in Australia, who is well known for making tuners and producing recordings.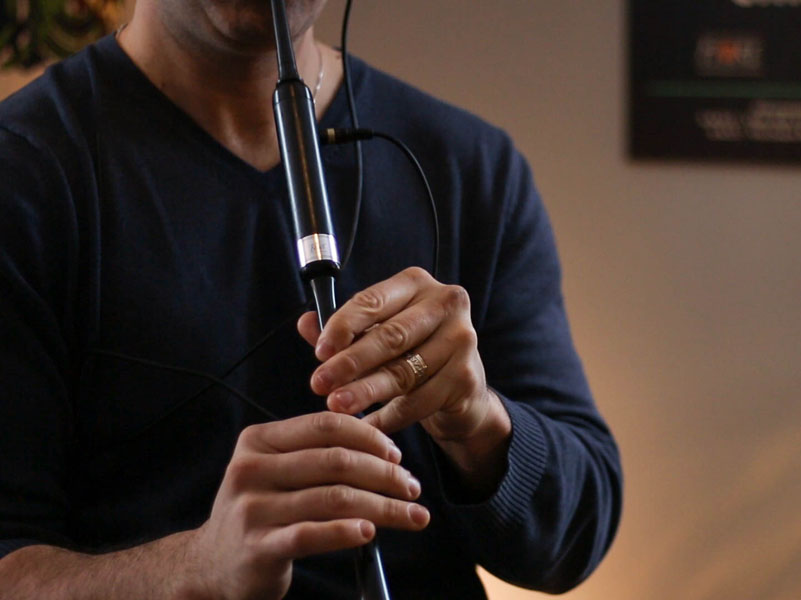 There has been no shortage of buzz and promotion of the Blair Digital Chanter since the company posted a cryptic photo on their Facebook page of what looked to be an engraved practice chanter back in April 2017. The photos that followed, with little accompanying info, would show glimpses of a digital screen, real holes, or engraved mounts. It was intriguing.
Fast forward to January 2018, and the review unit has finally arrived.
The carrying case is well made, with mesh pockets to hold the included micro-to-male braided USB cable and a separate threaded mouthpiece. It isn't required for operation; making it detachable means the case is more compact. It also helps to hold the chanter steady while playing.
The build quality is solid and sleek. The ferrule and sole are both polished aluminum and give the instrument some heft, and a Victorian engraving option is also available for a premium. At around $1,000 all told, it isn't cheap, but is certainly priced within the segment.
A 1/8″ audio out jack and micro USB port are on the left hand side, with the OLED (organic light-emitting diode) display on the back, which is conveniently placed to access while playing.
The display is bright and easy to read. One characteristic of the OLED screens now being used in high-end phones and TVs is the ability to reproduce very dark blacks, so you don't really see the screen except for the lit characters.
The chanter has a built-in rechargeable battery, which should provide six hours of playing time before needing to be plugged in, depending on usage. In my experience, I got around 4.5 hours before it started to act up. The manual does explain that the sensors may malfunction on a low battery.
One thing I would like to see is an indication that the battery is fully charged. While the display does show an animated battery icon to indicate that the unit is charging, it doesn't stop when the unit is fully charged. The manual stipulates three to four hours to charge it fully, but a visual indication would be helpful.
A most welcome feature of this digital bagpipe is the employment of physical holes, just like a real one, and hole spacing is about . . .