Jimmy Stewart, 1953-2019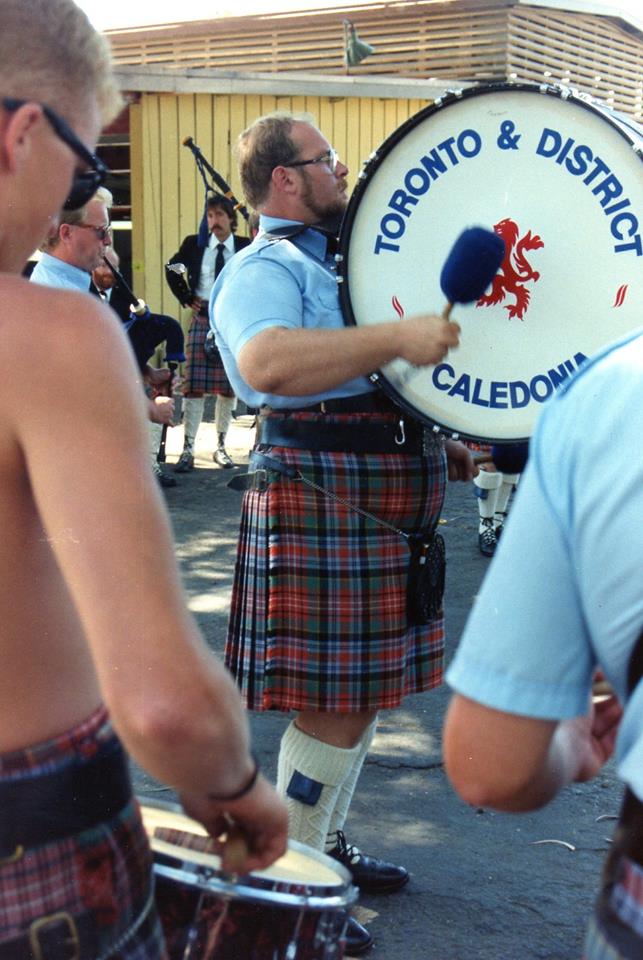 The well-known bass drummer Jimmy Stewart of Stoney Creek, Ontario, died on July 5, 2019, following years of declining health.
Born October 21, 1953, in Glasgow, Stewart emigrated to Canada in 1965, and played with several Ontario-based bands, including the Grade 1 Toronto & District, Peel Regional Police and City of Guelph. He also was a member of the Waterloo Regional Police and Dofasco at various times.
It was with the now defunct Toronto & District Caledonia, under Pipe-Major John Elliott and Lead-Drummers Harvey Dawson and Craig Stewart, that he made his biggest mark with a unique and dynamic style, punctuated with "dancing" movements and impeccable timing.
His use of dampening the bass with his mallets was seen by many as pioneering, and in 1992 and 1994 he won the Best Bass award at the World Pipe Band Championships with Toronto & District and the Peel Police, respectively. He was a seven-time winner of the Grade 1 Best Bass Drummer prize at the North American Championships.
Stewart was credited by many as the first to use a sideways "crab walk" entering the competition circle, allowing the tone of his always impeccably-tuned and resonant drum to be fully appreciated by the ensemble judge.
His innovative bass drumming style was quickly emulated around the world in the 1980s, and Stewart is acknowledged as helping to take the instrument from being a simple background time-keeping mechanism, to taking a central role in the ensemble effect of a pipe band.
For two decades, Ontario had two of the world's most creative progenitors of the art of bass drumming in Stewart and his late contemporary in Grade 1 bands City of Toronto and the 78th Fraser Highlanders, Luke Allen.
Jimmy Stewart was active with the Pipers & Pipe Band Association of Ontario, serving as head of its Niagara-Hamilton branch, and was a continual outspoken voice in the community until poor health forced him to stay in the background.
On behalf of the world pipe band community, we extend out condolences to Jimmy Stewart's family and friends at this sad time.
A reception will be held at the Donald V. Brown Funeral Home, 36 Lake Avenue Drive, Stoney Creek, Ontario on July 11, 2-4 pm and 6-8 pm. The funeral service will be on July 12 at 11 am at the same location. Donations can be made to The Alzheimer's Society or the PPBSO in Jimmy Stewart's memory.