L-D search on for Ottawa Police
The Grade 1 Ottawa Police Service Pipe Band has commenced a search for a lead-drummer for "the 2018 season and beyond," as incumbent Brendan Kelly plans to step back from the band due to personal commitments.
The band will compete in 2017 under a "lighter schedule," according to Pipe-Major Andrew Hayes, with Kelly continuing to lead the drum section. Hayes said that he expects Kelly to remain as a player with the band after 2017.
"We are grateful for all of [Brendan's] work and dedication, as we would not be where we are without his contribution," Hayes said. "He gave us a lot of notice so that we can find the right person to lead the drum corps. While change is difficult, it helps when you have time to figure things out. At this point, we have begun the search process for a new lead-drummer who will bring enthusiasm and experience to the Eastern Ontario region, and who can help us continue to build on the momentum that our band has enjoyed.  Current band members come from diverse backgrounds, and we are committed to work with interested candidates to explore how we can facilitate this leadership transition, including securing employment in Ottawa."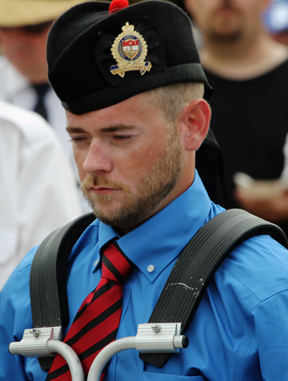 Under Hayes and Kelly, the Ottawa Police has been a success story in Ontario, rising from Grade 2 to Grade 1 in short order, last year travelling to competing at the World Championships in Grade 1 for the first time in the band's long history.
"As for the summer, we are practicing regularly," Hayes added. "We are still figuring out where we are going to play.  We have done a number of significant trips over the last few years, and we are going with a lighter schedule for competitions this year.  The main goal for us this year will be to put out two strong performances at Maxville – that will likely be our biggest test this summer."
The band will celebrate its fiftieth anniversary in 2019. Hayes said that they are building up for that especially, actively recruiting other drummers and pipers interested in joining. "We are always looking for people with the talent, ambition, and dedication to making great music with a great group of people.  We welcome inquiries from anyone who would like to learn more about the band.  We can be reached at Pipeband@ottawapolice.ca."