Liddell wins MacCrimmon Trophy at Lorient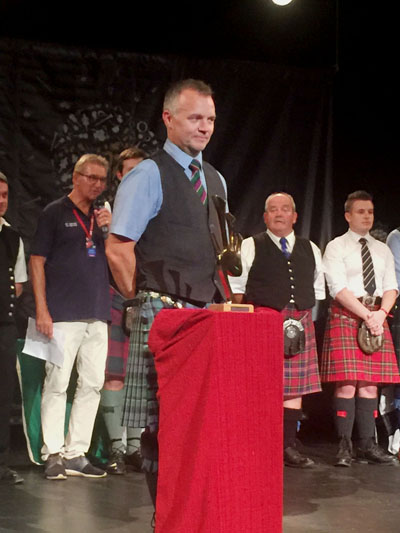 Lorient, Brittany – August 5, 2018 – The annual MacCrimmon Trophy for solo piping across Breton, Irish and Scottish Highland pipe music genres, besting Gwenael le Corronc of Brittany. The competition is part of the annual Festival Interceltique de Lorient, the largest single Celtic music festival in the world. Contestants qualify for to play in the event through designated competitions around the world.
After several years of many of the same judges, the competition refreshed the panel with several different faces.
MacCrimmon Trophy Overall
1st Stuart Liddell (7,5,2,1,1,1 = 17)
2nd Gwenael le Corronc (1,1,4,7,3,3 = 19)
3rd Cédric le Bozek (2,2,6,6,4,5 = 25)
4th Liam Kernaghan, New Zealand (3,3,10,9,2,2 = 29)
5th Quentin Muenier, Brittany (8,8,1,8,5,4 = 34)
6th Kyle Warren, Australia (6,4,9,3,6,6 = 34)
7th Andrew Wilson, Ireland (5,6,5,5,7,7 = 35)
8th Andrew Carlisle, USA (4,7,7,2,9,9 = 38)
9th Grahame Harris, Ireland (9,9,3,4,11,11 = 47)
10th Christopher Lee, Scotland (10,10,11,10,8,8 = 57)
11th Robert Barnes, Scotland (11,11,8,11,10,10 = 61)
Judges: Pascal Guingo, Philippe le Ny (Breton); Fionn O'Halmhaim, Andy MacGregor (Irish); Dr. Angus MacDonald, Euan Anderson (Scottish)