MacPherson quarry goes unsold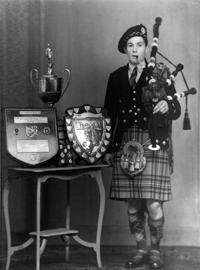 The auction of many of the late Donald MacPherson's piping medals and trophies, to be sold in their entirety as a lot, was unsuccessful, with a reported top bid of more than £9,000 not meeting the reserve price.
MacPherson's estate hoped to realize as much as £18,000 for the lot, and minimum was set at £12,000.
MacPherson was one of history's most successful competitive pipers, amassing a trove of awards that included 15 Senior Piobaireachd titles from the Argyllshire Gathering and nine Northern Meeting Clasps.
MacPherson died on April 21, 2012, at the age of 89. The pipes that he played for most of his life were auctioned by his estate only a few months later, purchased by Peter Anderson of Australia for £29,800 ($47,366).
The auction resulted in some controversy, with the piping community hoping that the items would be acquired for public display by one of the two significant museums for Highland piping at the National Piping Centre or College of Piping in Glasgow. The Piping Centre's museum is curated by the National Museums of Scotland, which also would have to acquire the items.
pipes|drums published an extensive interview with Donald MacPherson in 2004, republished here.