Shotts brings in 185 young players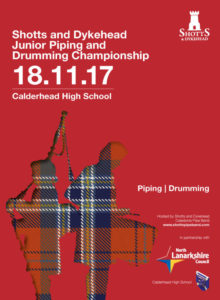 Shotts, Scotland – November 18, 2017 – The fourth annual Shotts & Dykehead Junior Piping & Drumming Championship was held at Calderhead High School, where a record 185 young pipers and drummers tested their skills across a variety of events and age-groups.
The winner of the Tom McAllister Jr. Memorial Trophy for Best Overall 18 & Younger Piper was Finlay Cameron, and the winners of the John K. McAllister Memorial Trophy for the Best Overall 15 Years & Younger Piper was Andrew Ferguson, who respectively received a set of Chris Armstrong Highland pipes and a set of Fred Morrison small, donated by McCallum Bagpipes.
The event is organized by the Grade 1 Shotts & Dykehead Caledonia, and a host of judges, mostly from rival bands, volunteer their services.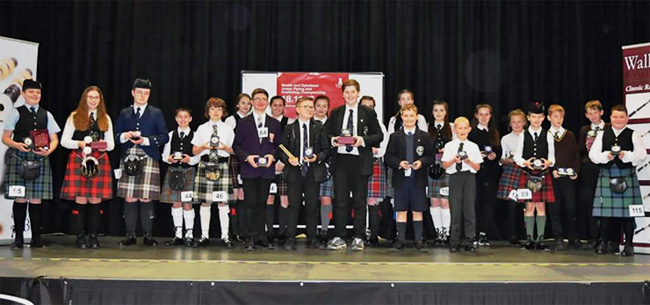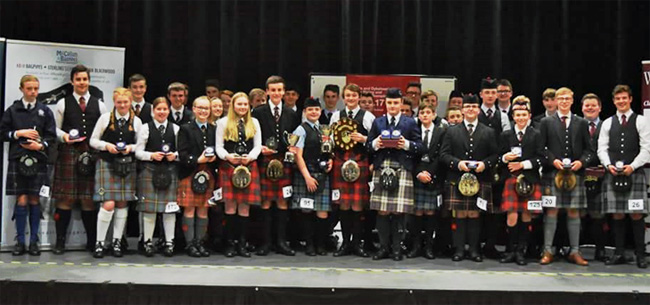 Solo Piping
18 & Younger
Piobaireachd
1st John. A. McLaren
2nd Finlay Cameron
3rd Lewis Russell
2/4 March
1st Finlay Cameron
2nd Angus Macphee
3rd Robbie MacIsaac
4th Ben Muir
5th Lewis Russell
6th Callum Davidson
Strathspey & Reel
1st Finlay Cameron
2nd Angus Macphee
3rd Robbie MacIsaac
4th Luke Shearer
5th Ben Muir
6th John. A. McLaren
15 & Younger
Piobaireachd
1st Andrew Ferguson
2nd Cialan Kellett
3rd Luke Kennedy
4th Emma Hill
5th Ross Connor
6th Cameron May
Piobaireachd Ground
1st Joshua Reilly
2nd Evan Hawkins
3rd Donald Morris
4th Bobby Allen
5th Gregor Grierson
6th Ryan McCreadie
2/4 March
1st Christopher Happs
2nd Andrew Ferguson
3rd Ross Connor
4th Luke Kennedy
5th Ruairidh Brown
6th Brodie Watson-Massey
Strathspey & Reel
1st Christopher Happs
2nd Andrew Ferguson
3rd Brodie Watson-Massey
4th Ross Connor
5th Ruairidh Brown
6th Luke Kennedy
13 & Younger
2/4 March
1st Nicholas Knowles
2nd Bobby Allen
3rd Richard Kneen
4th Adam Dandie
5th Donald Morris
6th Jack Smith
Strathspey & Reel
1st Bobby Allen
2nd Nicholas Knowles
3rd Cameron May
4th Joshua Reilly
5th Jack Smith
6th Christie Mcnab
Chanter
Age 18 & Younger
Slow Air (two parts)
1st Fraser Smith
2nd Finn Gilmour
3rd Lloyd Ferguson
4th Erin Allison
March (two parts)
1st Fraser Smith
2nd Christopher Drummond
3rd Harrison Bishop
4th Finn Gilmour
5th Erin Allison
6th Rachel Donald
Solo Drumming

Snare
18 & Younger
March (eight parts)
1st Adam McMillan
2nd Ross Stevenson
MSR
1st Thomas Barnes
2nd Rachel Thom
3rd Alex Faulds
4th Lewis Connell
15 & Younger
MSR
1st Kerr McQuillan
2nd James Strachan
3rd Ewan McDonald
4th Lachlan Kyle
5th Rachel Fairley
6th Fergus Kyle
March
1st Caitlyn Malloy
2nd Callum Kyle
3rd Mark Bathgate
4th Archie Jaffrey-Smith
5th Niamh McCreadie
6th Luke Cunningham
Stick and Pad
15 & Younger
March
1st Jason Hendry
2nd Andrew Black
3rd Oliver Burbury
4th Ewan Jeffrey
Tenor
18 & Younger
MSR
1st Emily Davidson
2nd Abby Johnston
3rd 14 Morgan Lynch
4th Mia Googe
15 & Younger
March (4 parts)
1st Fiona McCall
2nd Lynsey Merrilees
3rd Aimee Reid
4th Hannah McIntyre