Paradiddle universe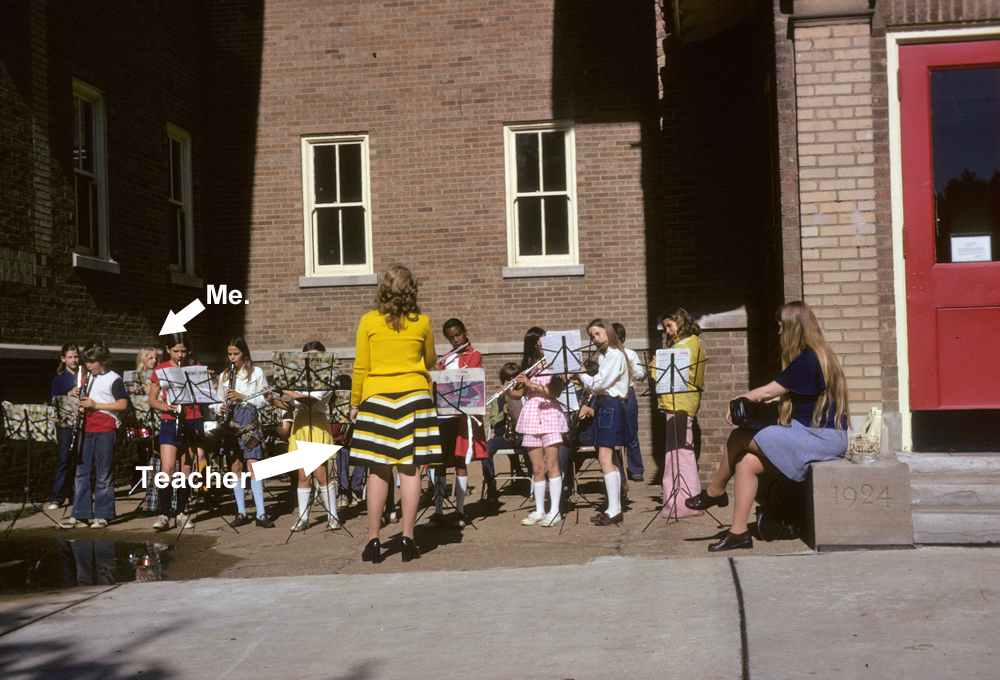 Truth be told, I was a snare drummer first. Yes, at the age of nine, when Flynn Park fifth-graders signed up for a musical instrument that they wanted to learn, I wound up with the drum.
My actual intention, like most boys, was to play the trumpet. But I remember gathering in the school cafeteria, and the music guy (who had a toupee that was more shag-carpet than hair) looking in our mouths like so many gift-horses, considering my under-bite and crooked teeth, and crushingly informing me that I would most certainly be getting braces, so the trumpet wasn't practical.
Inconsolably sobbing, I was offered, maybe even assigned, the drum.
This was at least a year before I expressed interest in that other ultracool instrument, the Highland pipe. I set about getting completely underwhelming instruction in the drumming rudiments. I learned a flam and a paradiddle well before my hands were placed on a chanter.
The music guy didn't actually do the drum teaching. Instruction was from an obviously very talented woman, who had the worst (or best, depending on your preference) arse-to-torso ratio of any person I'd ever seen – at age nine, anyway. She seemed to know every instrument there was, and I was her only drumming student at Flynn Park. I think she took at shower in pure Charlie perfume; such was her fragrant embrace around me when she worked my hands, trying to teach me the art of the roll, the ratamacue and the red-hot flamadiddle. It was all in the wrist, she cooed.
I vividly remember her frustration with me, her indolent, prepubescent percussionist, as we prepared for the big spring concert at which the little school orchestra would perform an outdoor show (pictured above). With her dimensions, one would suppose that she would go for "Hot Crossed Buns." No sir-ee. She was determined to have us first-year squealers and bangers do a heartfelt rendition of the "Theme from Shaft," which had been at the top of the 1971 charts.
She became completely exasperated with my inability to play the drumming interlude/solo that went ta-da-ta-da-taaaaa ta-da-ta-da-ta-daaaaaa ta-da-ta-da-taaaaa ta-da-ta-da-ta-daaaaaa at about 120 BPMs. I completely blew it in the concert (that no one but my diligent paparazzi Pop attended), and I can still see her shaking her head at me mid-performance, what with her giant hoop earrings, crispy pre-disco-era hair and upturned glossy hooker-red lips.
Amazingly, I continued to "play" the snare drum for another two years, much the same way that I continued to "learn" algebra. While doing that, I found my musical calling in piping, but there too I was an early wilter – the local band I was learning with, when I let it slip that I was a "drummer," immediately tried to move me to that, to offset their dearth of bodies at the back end.
I'm sure that my Dad must have stealthily intervened and insisted that they keep teaching me piping, so I was rescued from the dregs of practice chanter students and eventually committed myself to actually trying. Early wilter turned late bloomer.
All told, I'm glad that I tried my hands at drumming. For me, what the instrument lacked in melody, it made up in theory. When I started the pipes, I could already understand note-values and time signatures, notwithstanding wondering where all the rests went. Because I sucked so bad at it, I appreciate just how difficult the instrument is.
I've occasionally considered picking up the sticks again. I'd love to experience for real a pipe band's back-end. But, like my lovely first music teacher, it's all in the rearing.