Where are the leaders?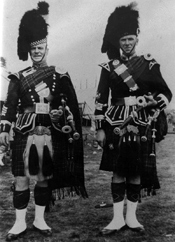 The post-season partings from premier pipe bands seem to increase every year. What's perhaps more interesting is that these leadership vacancies appear to be increasingly difficult to fill. Pipe-Majors and Lead-Drummers resign and, more often than not these days, there's no ready successor. Bands usually have to go searching for willing leaders. Some have even resorted to advertising.
Was this always the case? Not so long ago, it seems to me, every pipe band had numerous pipers and drummers looking for their shot at leadership. When there was a chance to become a P-M or L-D of a top-grade band, people would leap at the opportunity. Now it seems like talented players with potential leadership skills have to be persuaded to take on the job.
And the job today is ever more complex and difficult, even though the rewards are pretty much exactly the same as they were in 1947. Never mind having a great ear and musical talent, leading a modern top-grade band demands extraordinary "man-management" skills. Today's Grade 1 pipe-majors and lead-drummers are supervising sensitive egos of skilled players who often would just as soon go elsewhere if you dare to look at them sideways.
Their role demands that they deal with terrific pressure to produce a professional-quality band while still trying to enjoy their hobby. It's a full-time job that has to be completed during so-called free-time. In truth, managing people, instruments, music, logistics and who-knows-what-else is a full-time job that has the exact same return as ever before.
There's no money in it. Unless you're an extraordinarily rare case – like, for example, Terry Tully, Terry Lee, Richard Parkes or Bill Livingstone – there's inevitably a coup d'état awaiting you down the road. You now have to manage twice as many players. The glory is whatever self-satisfaction you can derive from doing something well and, all too often, it's a thankless job. Every year the investment is more but the return is the same. Further, you can do your absolute best and wholeheartedly believe in and love your band, only to have some anonymous, incompetent, cowardly idiot skewer you on the net. Who needs it?
But perhaps the two situations go hand-in-hand. The reluctant leader is almost always the best. He or she doesn't pine for the job, but must be convinced to do it and, when coaxed to give it a try, all too often turns out to be really good at it.
By that token, beware the piper or drummer who's looking for a leadership gig. There are of course exceptions, but one can't help but notice those who bounce from band to band, looking for the next great thing. And why does the next great thing never happen for them? That's right, because they're leading it.
So maybe it's understandable that natural born leaders today have to be discovered. They have to be cajoled and coaxed and persuaded to just try it, to tide the band over just for one season. They step up to help not because they want to help their ego, but because they want to help the band.
And with luck and a lot of care and feeding, they'll learn to love the job and not run screaming from the ordeal they never really wanted in the first place.