Vids: 78th Halifax win Georgetown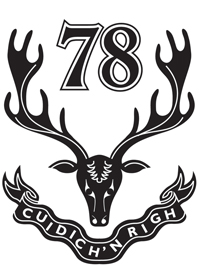 Georgetown, Ontario – June 10, 2017 – At a warm and sunny Georgetown Highland Games, the 78th Highlanders (Halifax Citadel) won the Grade 1 band competition against three other bands. City of Dunedin took Grade 2. Ian K. MacDonald was the Professional Piper of the Day, and Gavin MacKay in Amateur. Kyle Wardell was the Professional Drummer of the Day.
At the final massed bands, a tribute was given to the late Reay Mackay, a beloved figure on the Ontario piping and drumming scene. Bob Worrall provided a spoken tribute and the three bands of the Toronto Police organization, in which two of Mackay's grandchildren are pipers, led "Amazing Grace" with the rest of the bands.
Stay tuned to pipes|drums for video from the Grade 1 and Grade 2 band events.
Grade 1 (medley, four competed)
1st 78th Highlanders (Halifax Citadel) (1,2,3,2)
2nd Toronto Police (2,1,2,3)
3rd 78th Fraser Highlanders (4,3,1,1)
4th Peel Regional Police (3,4,4,4)
Judges: Jim McGillivray, John Elliott (piping); Dave Coleman (drumming); Ken Eller (ensemble)
Grade 2 (MSR, two competed)
1st City of Dunedin (1,1,1,1)
2nd 400 Squadron (2,2,2,2)
Judges: Jim McGillivray, John Elliott (piping); Dave Coleman (drumming); Ken Eller (ensemble)
Grade 3 (medley, nine competed)
1st Toronto Police (Gr3) (1,2,2,1)
2nd Hamilton Police (3,4,1,5)
3rd Ottawa Highlanders (2,1,9,2)
4th Glengarry (4,7,3,3)
5th Windsor Police (5,3,6,9)
6th Rob Roy (6,6,5,7)
7th Buffalo Bagpipe Band Club (9,8,4,6)
8th Guelph (7,5,7,8)
9th Arnprior MacNab (8,9,8,4)
Judges:  Bob Worrall, Charlie MacDonald (piping); Brian McCue (drumming); Andrew Berthoff (ensemble)
Grade 4 (march medley, eight competed)
1st Paris-Port Dover (2,2,1,4)
2nd Durham Regional Police (7,1,2,5)
3rd Ryan Russell Memorial (4,6,5,1)
4th 8 Wing Trenton (1,7,6,2)
5th Niagara Regional Police (3,3,8,3)
6th London Fire Fighters (5,4,4,6)
7th Border Cities Caledonian (6,5,7,7)
8th Barrie (8,8,3,8)
Judges:  Bob Worrall, Charlie MacDonald (piping); Brian McCue (drumming); Andrew Berthoff (ensemble)
Grade 5 (march medley, 10 competed)
1st Hamilton Police (Gr5) (1,2,1,1)
2nd Georgetown (3,4,4,4)
3rd Guelph (Gr5) (2,3,8,3)
4th Paris-Port Dover (Gr5) (8,5,3,2)
5th Cambridge & District (4,1,7,6)
6th White Heather (5,8,5,7)
7th Grand Celtic (7,6,6,8)
8th London Fire Fighters (6,7,10,5)
9th St. Andrews, Mississauga (10,10,2,9)
10th Flint Scottish (9,9,9,10)
Judges: Jim McGillivray, John Elliott (piping); Dave Coleman (drumming); Ken Eller (ensemble)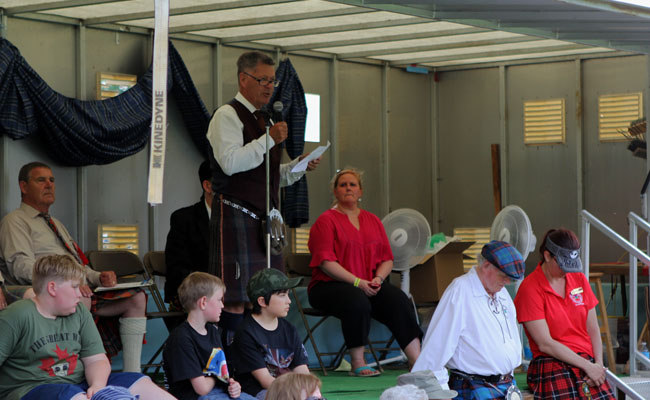 Professional Solo Piping
Piobaireachd
A
1st Doug MacRae
2nd Jacob Dicker
3rd Andrea Boyd
4th Ian K. MacDonald
5th Glenn Walpole
Judge: Jim McGillivray
B
1st Brendan Culver
2nd Tyler Harris
3rd Tyler Johnson
4th Dylan Whittemore
5th Alastair Murray
Judge: Bill Livingstone
March
1st Matt MacIsaac
2nd Ian K. MacDonald
3rd Andrea Boyd
4th James Dyson
5th Tyler Harris
Judge: Ken Eller
Strathspey & Reel
1st Ian K. MacDonald
2nd Glenn Walpole
3rd Matt MacIsaac
4th Tyler Bridge
5th Graham Thompson
Judge: John Elliott
Jig
1st Glenn Walpole
2nd Ian K. MacDonald
3rd Matt MacIsaac
4th Tyler Johnson
5th Tyler Bridge
Judge: Andrew Berthoff
Professional Solo Snare Drumming
MSR
1st Kyle Wardell
2nd Cameron McKail
3rd Zack miller
4th Eric MacNeill
5th Iain bell
Judge: Brian McCue
Hornpipe & Jig
1st Eric MacNeill
2nd Kyle Wardell
3rd Cameron McKail
4th Zack Miller
5th Iain Belll
Judge: Dave Coleman