A tune for Father's Day
structural connection to the ending. I was just wiggling my fingers and that phrase wiggled out. It seemed to come off my hands rather than out of my head, and I knew it was a keeper.
The third eureka moment was to put almost the entire first bar of the last part on high A. I once thought that a tune should get more complicated as you get further into it, so when I came upon that bar, I thought, no, that can't be. That's too simple; I'm copping out here. But the emotion of it grabbed me. It seemed to fit the way the tune gradually climbed the scale. I realized at that moment that tunes shouldn't get more complicated as they go, they should get more stirring. Those first two bars stirred me immediately, and to this day I still find the last part of the tune very joyful to play. To me, stirring the heart is the hardest part of composing. Notes are easy. Emotion is hard.
And so, after several unpleasant days of compulsive editing and at least a dozen parts thrown away, the tune seemed finished. I had no idea if it was any good. Frankly, I didn't want to ever see it again. But I circulated some copies of it and it was well received, assuming people weren't just trying to be nice. I hadn't thought of bringing it to the band yet. After all, it wasn't a medley tune; it was a walking-around tune.
That year – it may have been 1990 – the Piping Times announced a composing contest honouring the 50th anniversary of the production of the Spitfire fighter plane that turned the tide in the Battle of Britain. Entries could be in any time signature, and the winning tune would be called "Spitfire." I entered my rousing four-parted 6/8 march. A couple of months later I received a letter congratulating me on second place in the composing contest, which was won by a four-parted strathspey written by Pipe-Major Angus MacDonald, called now, of course, "Spitfire."
Second place? I couldn't have been happier. Such were the compliments I'd received in the two months since I'd entered the tune that I wanted my own title for it.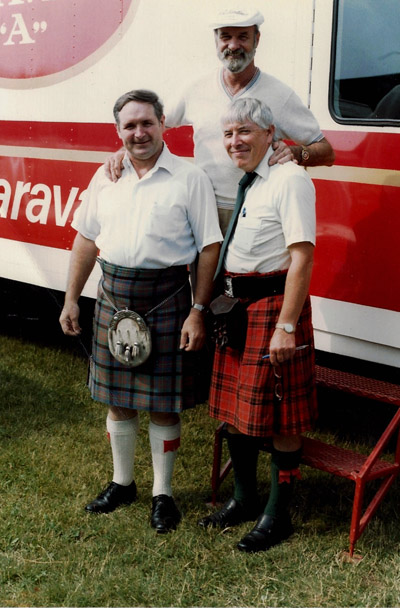 During those months the band expressed interest in the tune. There was one last eureka moment, not of my own making. That was when Bruce Gandy sat me down, and in typical Bruce fashion, got right to the point. "This is a good tune, Jim," he said. "But look, a coupla things gotta change, okay?" He continued without waiting for an answer.
"This bar here is really similar to this bar here, except for these two notes. It's nice, but it's too complicated, too much memory work for what you get out of it musically. Just make them the same as the other bars. And this second ending you have here: again, too complicated, chuck that. Keep it simple-stupid. Now, down here . . ."
And so Bruce gave me an unsolicited and forever appreciated composing lesson. In the space of five minutes, he chopped out wee extraneous notes and bars I'd added as the tune began to bore me after three days of obsessing over it. He didn't change my original intensions one iota, but he made the tune better, and that's what I published and have played ever since. (If you listen to Iain MacInnes play the tune on his CD Tryst, you'll hear snippets of the earlier version.)
Now I had a tune I liked and the opportunity to give it the name I really wanted for it.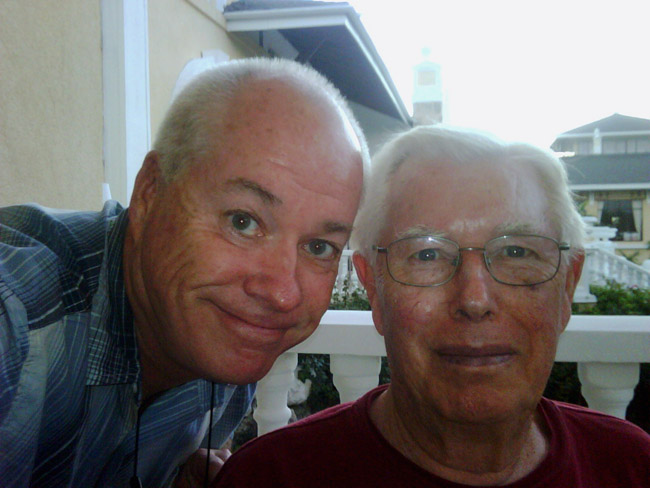 Though never a piper, James Duncan ("Dunc") McGillivray followed his piping son Jim and drumming daughter Melanie into the southern Ontario piping community in the 1970s, helping where he could as a steward around the games. The piping competitions at the Ontario games are all overseen by one organization, the Pipers & Pipe Band Society of Ontario. Sometime in the late 1970s, the PPBSO created a Chief Steward position to supervise the growing number of events and stewards. My dad's good nature and ability to know when to adhere to the letter of the law and when to bend the rules a bit to make things work made him an excellent choice. He defined the position, staying there until the early 1990s. I was always proud of the job he did and the respect he earned. I couldn't imagine a better title for my tune.
Duncan McGillivray lived to the age of 82, passing in February of 2013. In his last years he began to forget his recent life, though he could usually recall the old days. During these latter years, I really enjoyed playing the pipes for him. He would sit, quietly riveted, for as long as I would play, just as 40 years earlier his mother and aged uncles sat quietly, smiling and tapping their feet as I played.
He remembered to the end the names of the tunes of glory he'd always loved: "Road to the Isles," "Bonnie Dundee," "Green Hills of Tyrol," "Lochanside," "The Muckin' of Geordie's Byre" and, oddly, "Leaving Glenurquhart," my first competition tune. But "Duncan McGillivray, Chief Steward" was not one of them. He never asked for it, perhaps because it was not a melody from the auld days. Still, I'm very grateful I was allowed a good tune for my old man.
Jim McGillivray achieved great success as a competitive solo piper. He won both Highland Society of London Gold Medals as well as the Clasp at Inverness. He also won the MSR at the Glenfiddich Championship, and then retired from competitive solo playing at age 36 in 1991. He was the Pipe-Major of the Grade 1 Guelph Pipe Band when it won the North American Championship in 1981, and was a member of the 78th Fraser Highlanders from 1988-'92, and the Spirit of Scotland Pipe Band in 2008. He is Director of the piping and drumming program at St. Andrew's College in Aurora, Ontario, (www.sac.on.ca) an independent boys' school teaching grades 5-12. He also owns and operates McGillivray Piping (www.piping.on.ca) and pipetunes.ca (www.pipetunes.ca) where you can download bagpipe music and free demonstrations of the tunes by Jim and by many of the composers themselves.