Alec Dingwall, 1921-2016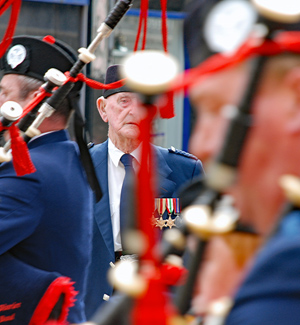 Alec Dingwall, a member of the Grade 4A Perth & District Pipe Band of Perth, Scotland, for an astonishing 82 years, died on November 27th at the age of 95. Even more remarkable, he might have held the record for continuous service with a band had his own father not served with the same band for more than 83 years.
The younger Alec Dingwall – "Old Alec," as he was affectionately known – joined Perth & District as a school boy in 1933, and eventually took over the bass drum from his father in 1948. His father, also named Alec, had joined the band in 1903, and competed with the group until 1986 and continued to play after that for a total of more than 83 years of service.
The younger Alec Dingwall joined the Scottish Horse in 1938 and served in North Africa in the 8th Army, seeing action in Italy in World War II. He served in the Territorial Army after the war.
He was made the first and only Honorary Member of Perth & District in 2008, and was also presented with an Honourary Life Membership by the RSPBA.
The funeral will be at 11:30 am on Tuesday, December 6th, at Perth Crematorium, and afterwards at McDiarmid Park.
Condolences go to the Perth & District Pipe Band and Alec Dingwall's family and friends at this sad time.