Allan MacDonald releases new mobile apps for basic piping tuition
Allan MacDonald is known for his stellar compositions, prize-winning success, and love of the Gaelic tradition, and now he's added a new dimension to his repertoire with the release of the first in a series of mobile applications, developed with Thomas Zöller of Germany.
"Bagpipe Basics" has just been launched on Apple's iTunes App Store for $3.99, and is intended to teach the basics of Highland piping to rank beginners. Described as "leaning how to play the bagpipes in the simplest way imaginable," the app takes users through the fundamentals of the Highland pipe, including fingering, basic notation and how to play the scale in an animated and interactive way.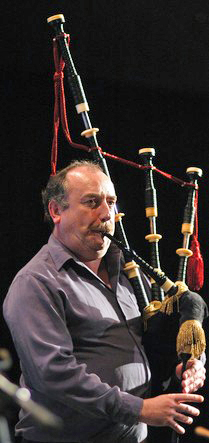 MacDonald and Zöller have created several games designed to train the learner's ear and take quizzes on fingering and notation.
The developers plan to release three more apps in 2014: "The Canntaireachd Tutor" promises to teach the basics of the "ancient codified pipers' language" for communicating tunes; "Bagpipe Flashcards" will bring will work on light music repertoire and the concept of "beat position" and even the fingering accidentals such as C-natural and F-natural; and the "The Bagpipe-App" will be a resource to "interrelate the terminology, rhythmic subtleties, finger technique, canntaireachd and the notation through an 'atomistic approach,' presenting learners with the vocabulary that makes the poem, as it were."
The apps are and will be available in English and German.
Allan MacDonald is a winner of the Clasp at the Northern Meeting in 1989 and 1990, and has worked to uncover and resurrect a style of Highland piping that reflects Gaelic culture of 1550-1750. His study in the correlation between piobaireachd and Gaelic song was seen as pioneering work in the 1990s in his self-described attempt to "reverse the effects of post-industrial sanitization and cultural colonialism."
The apps promise to draw upon the connection between the Gaelic language and modern piping: "In our apps we provide audio recordings of its pronunciation that offer direct access even for those that have not been exposed to this Celtic language so far."
Thomas Zöller is a Highland piping innovator and a member of the folk group As a' Phìob (Out of the Pipes). He has a bachelor's degree in Scottish music from the Royal Scottish Academy of Music and Drama in Glasgow.