Andrew Bonar, 1966-2017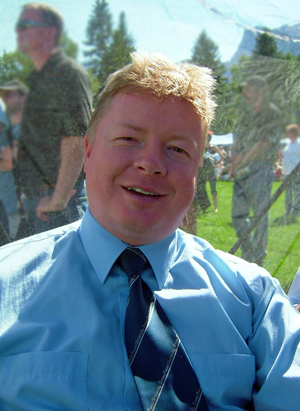 Andrew Bonar, one of the best and best-loved pipers ever to emerge from British Columbia, died on the morning of October 13, 2017, at the age of 51, surrounded by family, after a long and courageous battle with cancer.
Born on January 7, 1966, in Maple Ridge, British Columbia, Bonar learned his piping at first from his father and then with the Grade 2 Abbotsford Legion Pipe Band under Pipe-Major Ian MacDougall. Bonar would become one of the most accomplished pipers to come out of western Canada, and North America, for that matter, guided by Jack Lee for most of his long career.
Andrew Bonar was a stalwart member of the Grade 1 Simon Fraser University since 1980, winning the World Pipe Band Championship six times, and in the prize-list 25 times out of his 29 appearances with the band at the World's. He also played with the Grade 1 78th Fraser Highlanders for two years while studying to become an air traffic controller.
As a solo piper Bonar won many top prizes, including the British Columbia Pipers Association Professional Knockout seven times and a record 20 times as a finalist, the MacCrimmon Cairn for piobaireachd four times at the BCPA's Annual Gathering, four times BCPA Grand Aggregate winner, and in 2010 won the Silver Medal at the Northern Meeting.
In 2004 he published Boney Music, a collection of pipe tunes, mostly composed by him. In 2016 he was made an honourary life member of the BCPA.
His last appearance with SFU was at the 2014 World Pipe Band Championships, and as a soloist at the Northern Meeting a few weeks later in early September. Shortly after that, following upwards of 10 years of experiencing symptoms, he was diagnosed with a malignant and rare type of brain cancer and would undergo several surgeries and rounds of chemotherapy as he was determined to beat the disease.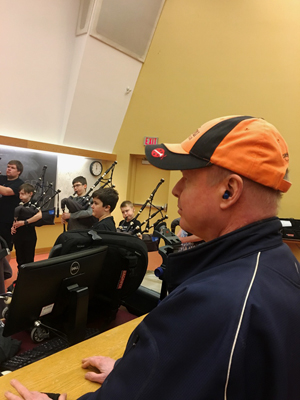 Virtually from the day he had emergency brain surgery to the day he died, Andrew Bonar's attitude about life was an inspiration to many. He remained steadfastly optimistic and continued to participate in piping events, and relished every moment with his family. He was also directly responsible for raising nearly $100,000 for the BC Cancer Foundation.
In a message in the last months of his life, he said, "I have already beaten the doctors' predictions from two years ago. I have got to spend every day with my children for the past 26 months. I have seen my daughter win Cowal twice and win two Canadian Championships. I have started my son on the pipes, watched him compete, and watched him play in Little League baseball last year. If it is time to go, so be it. No regrets."
For all who were fortunate enough to know him, "Boney" was one of the most popular, intelligent and funny people they'd come across. He had a mischievous charm, and photographic memory for numbers and details, able to recall exact placings and points from pipe band judges from World Championships decades ago. His aptitude for numbers and detail, and grace under pressure, were applied to his professional as an accomplished air traffic controller at the Vancouver International Airport.
Andrew Bonar is survived by his wife, Jeanette, and children Kate, who is an accomplished Highland dancer, and Cameron, who started piping in his father's last years.
Those who would like to make a donation to the BC Cancer Foundation in memory of Andrew Bonar, may do so here. pipes|drums will make a monetary contribution in his honour.
On behalf of the piping and drumming world, we extend our sympathies to Andrew Bonar's family and friends at this sad time.