Austin Diepenhorst: 2016 Sherriff Memorial Champion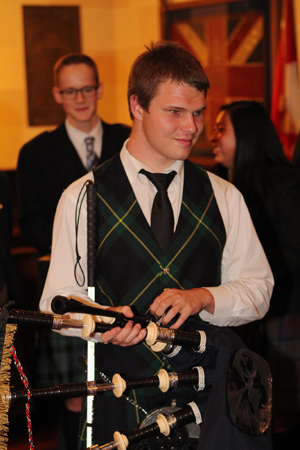 Hamilton, Ontario – November 19, 2016 – Austin Diepenhorst emerged the overall winner of the 2016 George Sherriff at St. Paul's Presbyterian Church, competing against a field of nine other invited contestants who were put forward as the most successful competitors from the past year by their home associations in North America. Diepenhorst was the first person to win the event twice and in consecutive years, and also the first to win all three events in one year.
Piobaireachd
1st Austin Diepenhorst, San Diego, "Lament for the Viscount of Dundee"
2nd Maeghan Bielski, Middleboro, Massachusetts, "Mackays' Banner"
3rd Andrew Hutton, Brantford, Ontario, "The Battle of Waternish"
4th Sarah Simpson, Cavendish, Prince Edward Island, "MacCrimmon's Sweetheart"
5th Gavin Mackay, Kitchener, Ontario, "Catherine's Lament"
MSR
1st Austin Diepenhorst, "Major Manson at Clachantrushal," "Highland Harry," " The Smith of Chilliehassie"
2nd Andrew Hutton, "The Pap of Glencoe," "Piper's Bonnet," "The Man from Glengarry"
3rd Maeghan Bielski, "Leaving Glenurquhart," "Glentruim," "The Cockerel in the Creel"
4th Gavin Mackay, "John MacDonald'sWelcome to South Uist," "Islay Ball," "Johnny MacDonald's Reel"
5th Michael McLeod, Greenwood, South Carolina, "Bonnie Anne," "Shepherd's Crook," "Lt-Col DJS Murray"
6/8 Marches
1st Austin Diepenhorst
2nd Andrew Hutton
3rd Maeghan Bielski
4th Christian Rhoads, St. Louis
5th Gavin Mackay
Also competing were Roger Holland-Lye, Coquitlam, British Columbia; Tori Killoran, Pitt Meadows, British Columbia; and Alexander Seto, Aurora, Ontario.
All of the events were judged by Andrew Hayes, Shaunna Hilder and Donald MacPhee. Michael Grey was emcee throughout the day and night.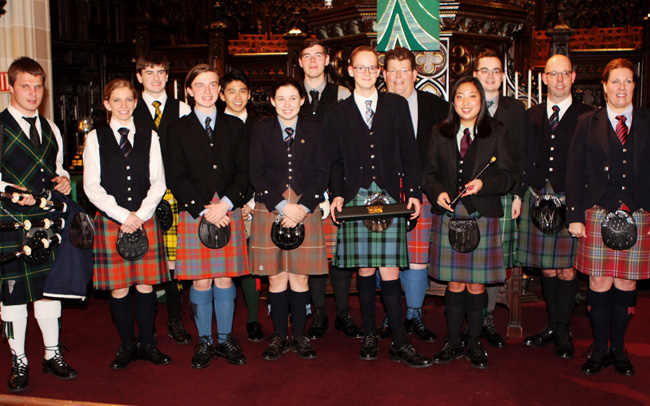 Competitors are invited via a system that is weighted by relative piping geographical densities and top amateur pipers' competitive success over the past year, as nominated and recommended by their home associations. For example, Ontario and British Columbia, because of the larger numbers of competitors, generally receive three and two spots, respectively, while other regions will have one or two, depending on individual playing standards.
The 21-year-old competition is organized by a team of volunteers led by Bob Worrall, and sponsored by the Pipers & Pipe Band Society of Ontario.
pipes|drums was one of the event's many sponsors.
Stay tuned to pipes|drums for video of the MSR event from this year's George Sherriff Invitational.