Beaumont wins Springbank Invitational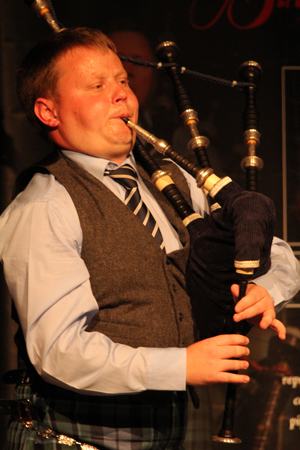 Campbeltown, Scotland – September 15, 2018 – Callum Beaumont of Linlithgow, Scotland, was the overall winner of the annual Springbank Invitational Solo Piping Competition held at the Seafield Hotel. The championship is decided by results in only the Piobaireachd and MSR events. Beaumont gained the new Willie McCallum Sr. Trophy, presented by the Kintyre Piping Society and Springbank Distillery. The 6/8 March contest called for tunes written by composers from the region. Gordon McCready of Paisley, Scotland, had the most successful day over the four events.
Piobaireachd (Carmichael Quaich)
1st Roddy MacLeod, Glasgow, "Lament for MacSwan of Roaig"
2nd Callum Beaumont, "Mrs. Smith's Salute"
3rd Gordon McCready, Paisley, Scotland, "Lady Margaret MacDonald's Salute"
4th Alasdair Henderson, Dunoon, Scotland, "War or Peace" (Gesto)
MSR (Serco Trophy)
1st Willie McCallum, Bearsden, Scotland, "Captain Campbell of Drum A Voisk," "Murdo MacLeod," "Dora MacLeod, " "Lady MacKenzie of Gairloch," "Roddy MacDonald's Fancy," "Lt. Col. D.J.S. Murray"
2nd Finlay Johnston, Glasgow, "John MacColl's March to Kilbowie Cottage, "Hugh Alexander Low of Tiree," "Cat Lodge," "Caber Feidh, "Thompson's Dirk," "The Rejected Suitor"
3rd Callum Beaumont, "The Glengarry Gathering," "Mrs. John MacColl," "The Top of Craigvenow," "Cameronian Rant," "Fiona MacLeod," "The Cockerel in the Creel"
4th Alasdair Henderson, "Donald MacLellan of Rothesay," "The Duke of Roxburgh's Farewell to the Blackmount Forrest," "The Caledonian Society of London," "Glentruim," "Mrs. MacPherson of Inveran," "Drumlithie"
6/8 March (McFadyen's Transport Ltd Trophy)
1st Gordon McCready, "The Kintyre Piping Society"
2nd Callum Beaumont, "Tug Argan Gap"
3rd Roddy MacLeod, "North Berwick Highland Games"
4th Alasdair Henderson, "The MacNeills of Ugadale"
Hornpipe & Jig (Committee Members Trophy)
1st Gordon McCready, "The Captain's Pledge," "The Skylark's Ascension"
2nd Finlay Johnston, "Joe McGann's Fiddle," "Kenneth MacDonald"
3rd Cameron MacDougall, Nigg, Scotland, "The High Level," "Angus John MacNeill of Barra"
4th Willie McCallum, "Dr. MacInnes's Fancy," "Center's Bonnet"
All of the events were judged by Ian Duncan, Murray Henderson and John Wilson. Rhona Lightfoot emceed throughout the day.