Beaumont wins Uist & Barra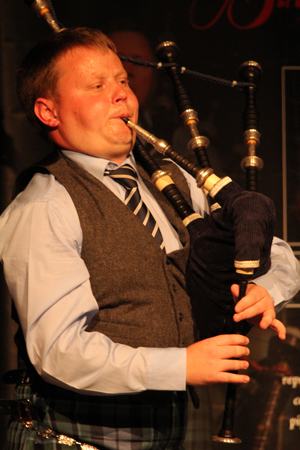 Glasgow – March 4, 2017 – Callum Beaumont was the overall winner of the annual Uist & Barra Invitational Solo Piping Competition, held at the College of Piping. Beaumont retained the Uist & Barra title that he won in 2016. The event is the first major solo contest of the Scottish season. Earlier in the week, original invitees Roddy MacLeod and Willie McCallum withdrew for the competition, McCallum citing "unforeseen circumstances." Graham Drummond and Innes Smith replaced them.
+ Beaumont out of the gate strong with win at U&B
Of note, Glenn Brown suffered a catastrophic crack in the top section of his outside tenor drone between the Piobaireachd and MSR events. He played in the light music, but stopped in the Hornpipe & Jig.
Piobaireachd
1st Callum Beaumont, Linlithgow, Scotland, "Lament for MacLeod of Colbeck"
2nd Niall Stewart, Kyle of Lochalsh, Scotland, "The Stewarts' White Banner"
3rd Glenn Brown, Glasgow, "Lament for Patrick Og MacCrimmon"
4th Jamie Forrester, London, "The Earl of Ross's March"
5th Craig Sutherland, Crieff, Scotland, "Scarce of Fishing"
MSR
1st Finlay Johnston, Glasgow, "Arthur Bignold of Lochrosque," "Maggie Cameron," "The Sheepwife"
2nd Cameron Drummond, Edinburgh, "The Lochaber Gathering," "The Caledonian Society of London," "Broadford Bay"
3rd Callum Beaumont, "Mrs. John MacColl," "Inveraray Castle," "The Cockerel in the Creel"
4th Douglas Murray, Cupar, Scotland, "The Highland Wedding," "The Ewe wi' the Crookit Horn"
5th Graham Drummond, Bathgate, Scotland, "Pipe-Major Jim Christie of Wick," "Mrs. Donald MacPherson," "Alick Cameron, Champion Piper"
Hornpipe & Jig
1st Cameron Drummond, "Colin MacKay," "Angus John MacNeil of Barra"
2nd Niall Stewart, "Donald MacLeod," "The Skylark's Ascension"
3rd Callum Beaumont, "Raigmore," "Donella Beaton"
4th Craig Sutherland, "The Man from Skye," "John Patterson's Mare"
5th Jamie Forester, "Redondo Beach," "Kenny Gillies of Portnalong, Skye"
Graham Drummond competed only in the light music.
Also competing, but not in the prizes: Wilson Brown, Glasgow; Faye Henderson, Kirriemuir, Scotland (piobaireachd only); and Innes Smith, Bridge of Allan, Scotland.
The judges for all events were James Banks, Robert Wallace and John Wilson. It was Wallace's first return to the College of Piping after a sudden departure in 2014 after 15 years of contract work.