Bill McAllister, 1926-2015 (updated)
William "Bill" McAllister, the last surviving brother from the previous generation of legendary Shotts & Dykehead Caledonia Pipe Band leaders, died early in the morning of September 18, 2015, at Monklands Hospital in Airdrie, Scotland, at the age of 89.
The sibling of his more famous pipe-major brothers, John K. MacAllister (who spelled his surname with Mac) and Tom McAllister Jr., Bill McAllister joined Shotts in 1940 at the age of 14, and, like his brothers, was taught by his father, Tom McAllister Sr.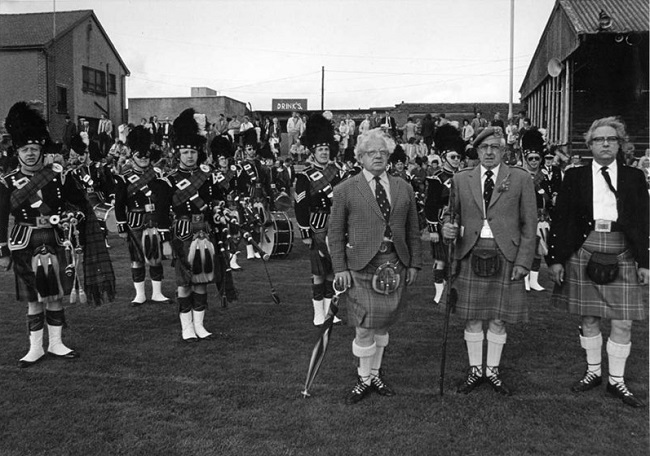 During his National Service, Bill McAllister was with the Scots Guards, playing under Pipe-Major Walter Cowan Sr., the uncle of the current Walter Cowan of Annan, Scotland. During his tenure with the Scots Guards, McAllister received instruction from the legendary Willie Ross.
In 1947 he finished his service and returned to the mining town of Shotts, to rejoin the band, and with his brothers become a driving force in the JWT McAllister Reedmakers, producing chanter reeds that for at least two decades were the most desired and successful worldwide at a time when chanter reed manufacture was limited to a relative few organizations. For years, the McAllisters had nearly cornered the market for pipe band chanter reeds until the arrival of makers like Shepherd and Warnock, which gradually gained marketshare. In the 1990s the McAllisters sold their business to James Troy of Victoria, British Columbia, Canada, who continues to operate the successful business.
Bill McAllister was also instrumental in the development and success of the War-Mac plastic pipe chanter, the first synthetic chanter to be mass-produced. Introduced in partnership with Andrew Warnock of Northern Ireland, the War-Mac chanter gained prominence in the 1970s, starting with major championships won by Shotts & Dykehead using the instrument. The success of the War-Mac chanter quickly prompted other bagpipe makers to bring out their own plastic chanters, contributing greatly to revolutionized tuning and tone for pipe bands.
Although less prominent than his more famous brothers, Bill McAllister played a major role in the evolution of pipe bands, helping to blaze a trail to where the category is today.
The funeral will be at 1:30 pm on Friday, September 25th, at Holytown Crematorium, Holytown, Scotland.
On behalf of the piping and drumming world, we extend our sympathies to Bill McAllister's family and friends at this lamentable time.