Carlisle wins 32nd annual USPF at Delaware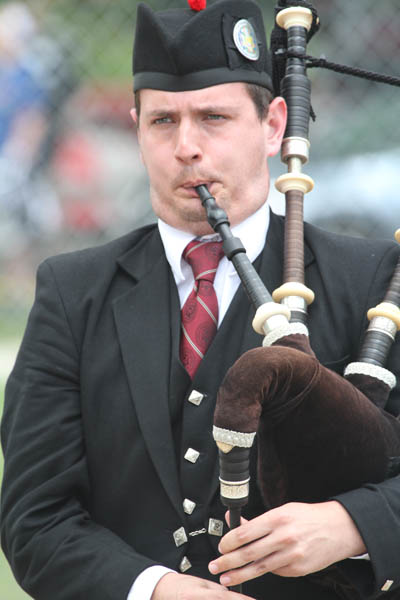 Newark, Delaware – June 16, 2018 – Andrew Carlisle of Pittsburgh was the overall winner of the 32nd annual United States Piping Foundation Professional Piping Championship, held at the Amy DuPont Music Building at the University of Delaware. Carlisle received airfare from the eastern United States to the UK to compete at one of several select solo piping events, prize money and a silver waist-belt buckle.
The competition was founded by the late Maclean Macleod, and was once a qualifier for the Glenfiddich Championship. When the status was dropped, Macleod responded by making the event available only to pipers residing in North America. Only one Canadian piper played in the events.
Professional
Piobaireachd (St. Andrew's Society of Philadelphia Silver Quaich, submit six tunes)
1st Derek Midgley, Tinton Falls, New Jersey, "The Battle of Waternish" (US$1,000)
2nd Andrew Carlisle, "Lament for the Earl of Antrim" ($800)
3rd Nick Hudson, Houston, "War or Peace" ($600)
4th Palmer Shonk, Pittsburgh, "The MacFarlanes' Gathering" ($400)
5th Ursa Beckford, Liberty, Maine, "Glengarry's March" ($200)
Judges: Bill Livingstone, Robert Wallace
MSR (St. Andrew's Society of Baltimore Silver Charger, submit six of each, one of each repeated)
1st Andrew Carlisle, "Pipe-Major George Ross's Farewell to the Black Watch," "Susan MacLeod," "Lt.-Col. D.J.S. Murray" ($1,000)
2nd Nick Hudson, "John MacColl's March to Kilbowie Cottage," "The Caledonian Society of London," "Mrs. MacPherson of Inveran" ($800)
3rd Derek Midgley, "The Argyllshire Gathering," "Bob of Fettercairn," "The Smith of Chilliechassie" ($600)
4th Ben McClamrock, Washington, DC, "Bonnie Ann," "Susan MacLeod," "The Little Cascade" ($400)
5th Bobby Durning, Peabody, Massachusetts, "Arthur Bignold of Lochrosque," "Moneymusk," "The Cockerel in the Creel" ($200)
Judges: Mike Green, Michael Grey
Also competing but not in the prizes: Brad Davidson, Waterloo, Ontario; Andrew Donlon, Germantown, Maryland; Teddy Krogh, Anchorage, Alaska; Dan Lyden, Timonium, Maryland; Alastair Murray, Moon Township, Pennsylvania; Sean Regan, Pittsburgh, Pennsylvania; Andrew Walker, Emmaus, Pennsylvania; and Mary Wallace, Richmond, Virginia.
The USPF also holds amateur events, which attracted 10 contestants. The overall winner was Kevin Darmadi of Houston, who received airfare, two weeks' tuition at an approved school in Scotland and a silver USPF belt buckle. Scholarships were also awarded to select piping schools to the next four in the overall amateur result.
Amateur
Piobaireachd (Donald MacPherson Silver Quaich, submit four tunes)
1st Kevin Darmadi, "MacLeod of Raasay's Salute"
2nd Steven McDonald, Pittsburgh, "The MacDougalls' Gathering"
3rd Charlie Morris, Agoura Hills, California, "Lament for MacSwan of Roaig"
4th Tyler Destremps, Bethlehem, Pennsylvania, "Lament for Captain MacDougall"
5th Filemon Tan, Bellaire, Texas, "Beloved Scotland"
MSR (Seumas MacNeill Silver Quaich, submit four, once through)
1st Filemon Tan, "The Clan MacColl," "Inveraray Castle," "The Man from Glengarry"
2nd Allyson Crowley-Duncan, Latham, New York, "Mrs. John MacColl," "John Roy Stewart," "Miss Proud"
3rd Kevin Darmadi, "Dr. MacLeod of Alnwick," "Tulloch Castle," "Broadford Bay"
4th Steven McDonald, "Bonnie Ann," "The Cameronian Rant," "Cecily Ross"
5th Nels Yehnert, Richmond, Virginia, "South Hall," "Inveraray Castle," "The Man from Glengarry"
Also competing but not in the prizes: Alasdair Martin, Huntersville, North Carolina; Thompson McConnell, Lititz, Pennsylvania; and Laura Neville, Wrightstown, New Jersey.
The amateur events were judged by Joyce McIntosh and Albert McMullin.
The USPF held an optional Professional Breton medley competition, with the aggregate winner of it and the Professional MSR qualifies to compete in the annual MacCrimmon Trophy at the Festival Interceltique in Lorient, Brittany, on August 5, 2018. The aggregate was won by Andrew Carlisle, with Nick Hudson and Ben McClamrock finishing second and third, respectively.
The judge of the Breton event was Alex Bartholomew.