Carlisle wins Livingstone with two firsts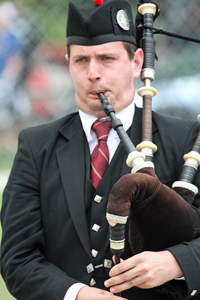 Hamilton, Ontario – May 11, 2019 – The annual William Livingstone Sr. Memorial Invitational piping competition was held once again at the Officers' Mess of James Street Armoury, where Andrew Carlisle of Pittsburgh won both the piobaireachd and MSRHPJ events. A crowd of about 30 came out for the evening light music.
Piobaireachd (submit four)
1st Andrew Carlisle, Pittsburgh
2nd Nick Hudson, Pittsburgh
3rd Sean McKeown, Toronto
MSRHP&J (own choice)
1st Andrew Carlisle
2nd Matt MacIsaac, Stayner, Ontario
3rd Ian K. MacDonald, Whitby, Ontario
Also competing but not in the prizes: Andrea Boyd, Toronto; Glenn Brown, Glasgow; Bruce Gandy, Dartmouth, Nova Scotia; Callum Harper, Bolton, Ontario; Ben McClamrock, Washington, DC; and Derek Midgley, New Jersey.
At least one piper decided not to request an invitation to the event because his teacher was judging.
Both events were judged by Michael Grey, Bill Livingstone and John Cairns filled in for A. John Wilson, who was originally supposed to adjudicate the contest, which is put on by the PPBSO's Niagara-Hamilton Branch.