Colossal 2017 Piping Live! and World's launched
The 2017 version of Piping Live! Glasgow International Festival of Piping and the World Pipe Band Championships were officially announced to the media, using "The Colossal Clansman," a giant piper work by Glasgow artist Bruno Gallagher.
The piece is emblematic of the festival and competition, which, according to studies, bring more than 50,000 people to Glasgow, resulting in an economic boost of £2.3-million to the city.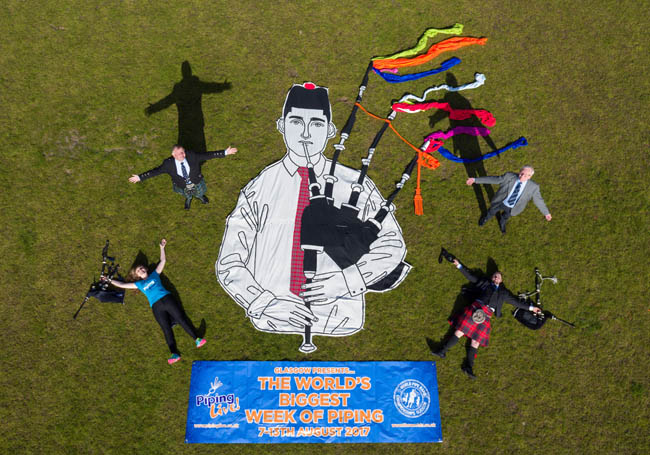 "Last year's festival was all about celebrating bagpipes being at the heart of life's moments that matter and this certainly resonated with people, as we celebrated a record-breaking number of attendees at Piping Live!," said Roddy MacLeod, Festival Director of Piping Live! And the head of the National Piping Centre, which plays host to many of the events. "This year we are continuing to celebrate how piping and its music brings people together, with a diverse program of events gathering the world's best pipers and traditional musicians to the city."
MacLeod took time away from his schedule for a photo op with the Colossal Clansman, lying down on Glasgow Green with RSPBA Chief Executive Ian Embelton and others for an aerial photograph of the piece. According to a release, the work is made with six miles of fabric, representing the amount of tartan that it takes to dress the 23 participating Piping Live! bands and 21 competing in the Grade 1 qualifier at the World's.
The 2017 rendition of Piping Live! expects to have more than 200 events at venues across Glasgow August 7-13, culminating with the World Pipe Band Championships, which last year attracted more than 220 bands.
It will be the seventieth anniversary of the official World Pipe Band Championships, which began in 1947 in Edinburgh at Murrayfield stadium. The contest changed cities each year until 1986 when Glasgow became the constant location for the event. Before 1946 the Cowal Pipe Band Championships were considered the de facto "World Championship." One rationale at the time for creating an official World Championship was that the event should move around.
The non-competition aspect of running the World's today is outsourced to the City of Glasgow, whose Glasgow Live, and is supported by EventScotland. Terms of the RSPBA's licensing agreements are not known.
The 2016 World Pipe Band Champions, Field Marshal Montgomery, received a cash prize of £1,500. Unlike many other pipe band associations around the world, the RSPBA offers no travel stipends to competing bands. A band from North America competing at the World's requires more than $75,000 to make the trip.