Commission insight: Allan MacDonald's tune for fundraiser
Ontario piper Steve Tripp's eye was caught when the Grade 2 City of Edinburgh Pipe Band put together a fundraiser that, among other items, offered an auction of a tune writing especially for the winning bidder by the famed pipe-music composer Allan MacDonald.
Tripp knew that he wanted a composition to honour his father, Donald William Tripp, and hoped that his bid of £110 might be the top offer, and, as it turned out, it was.
The result is "Donald Tripp, The Polymath," a two-parted reel in MacDonald's trademark creative flair and style. The younger Tripp let MacDonald determine the category of tune, and provided him with a description of his father and a general sense of what he hoped for from the work.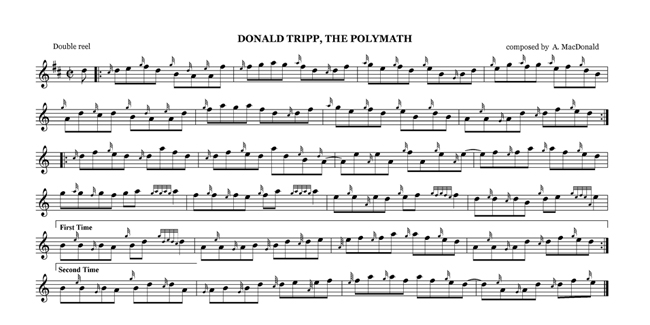 "My dad has always been my biggest supporter, he always encouraged me to be the best I could be but with the understanding that piping was a hobby first and foremost," Steve Tripp said. "He's an avid hunter, trapper, artist, photographer, beekeeper, boat-builder, shoemaker, fly fisherman and piper. My dad to this day still plays the pipes at his house he built on 300 acres of forest in Northern Ontario. I thought this would be a great gift for the old guy."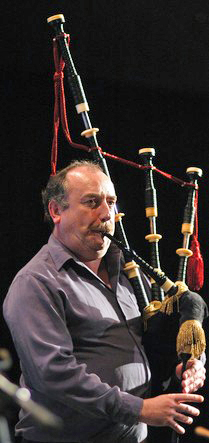 But what about the process for developing the tune? Is a successful composer being commissioned to create a piece a challenge different from the perhaps typical serendipity of the muse naturally striking?
"I really do not know what to say about this composition on a deeper level, because if I could say it all in words I would not be writing the tune," Allan MacDonald said. "I did this because the City of Edinburgh Pipe Band were trying to raise funds and asked me if they could put a composition up for auction. I was given information from [Steve Tripp] along the lines of his father being talented in a number of areas, so I decided to write something that was of a different construct to try and represent this in some way. The process involves sitting down and starting to play the chanter until something 'original' comes up!"
Paid commissioned pieces are relatively infrequent in the piping world, but composers like Bruce Gandy have offered the service for many years. Commissions were relatively common when estate pipers were frequently employed by the Scottish aristocracy, and many piobaireachds were made to honour benefactors.
"I was told that Allan would compose a tune with some 'buzz' to it," Tripp said, "and the organizer had told me he wasn't sure if that was in reference to the bees my dad keeps or his chainsaw in the woods! I am truly thankful to for the opportunity Allan has given and hope the money I spent will help the band's cause. The idea of having Allan MacDonald compose a tune and then have the option to name it after my dad was too good to be true."
Click here to listen to a sound recording by Allan MacDonald of "Donald Tripp, The Polymath."
We thank Steve Tripp and Allan MacDonald for their permission to share the composition with pipes|drums readers.