Dark clouds as Canmore Games tries crowdfunding
If they doled out money for great scenery, the Canmore Highland Games in Alberta, Canada, would be rolling in cash. But, faced with declining attendance and rising costs, what might be the world's most scenic piping and drumming competition is resorting to crowdfunding to help it pull together enough money to hold a 2015 event.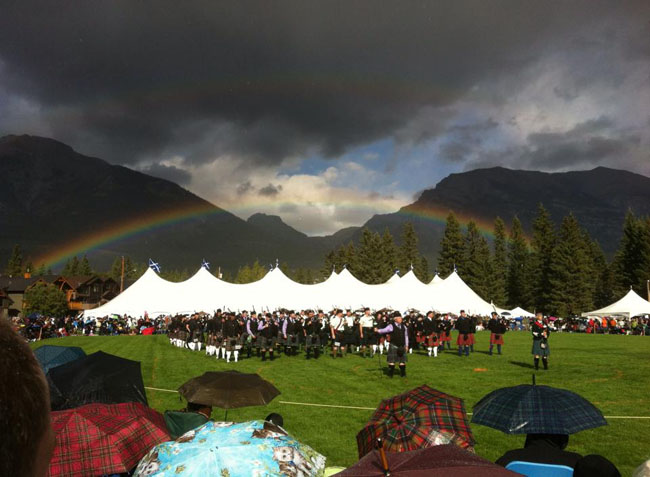 The group has launched a campaign on social media aimed at pipers, drummers and fans of things-Scottish in a plea for donations to salvage the competition.
Among the reasons the organizers suggest people should have to donate are, "If you have any Celtic background," "If you've ever thrilled to the sound of the bagpipes," and "If you love Scotch."
Rather than using a familiar crowdsourcing online platform, the group is asking parties to donate by filling out and returning a form, along with a cheque or credit card and, should not enough money be accumulated by February 15th to put on the event, there is a refund assurance.
"If you care about celebrating culture and heritage, helping volunteers stage a long standing festival and benefiting the community at large, please support our cause," the organizers stated in their social media request.
Though a spectacular setting for a Highland games, rivalled perhaps only by the Luss or Lochearnhead Highland Games in Scotland, Canmore has not proven as popular as it might be with pipers and drummers, according to several competitors. Accommodation in the tourist town can be expensive, and many competitors who attend the games choose to return to the city of Calgary in the evening.
The Canmore Games have also traditionally placed heavy emphasis on the large beer-tent ceilidh in the evening, often hiring Celtic music groups with worldwide appeal.
The early-September Sunday event has been part of a two-day competition weekend, with the Calgary Highland Games held on the Saturday. The high-altitude Rocky Mountain venue frequently sees snow in the morning and temperatures rising to the mid-20s by afternoon.
The Canmore crowdfunding campaign is thought to be a first for a Highland games.