Douglas Bilsland: NZ Young Drummer of the Year 2018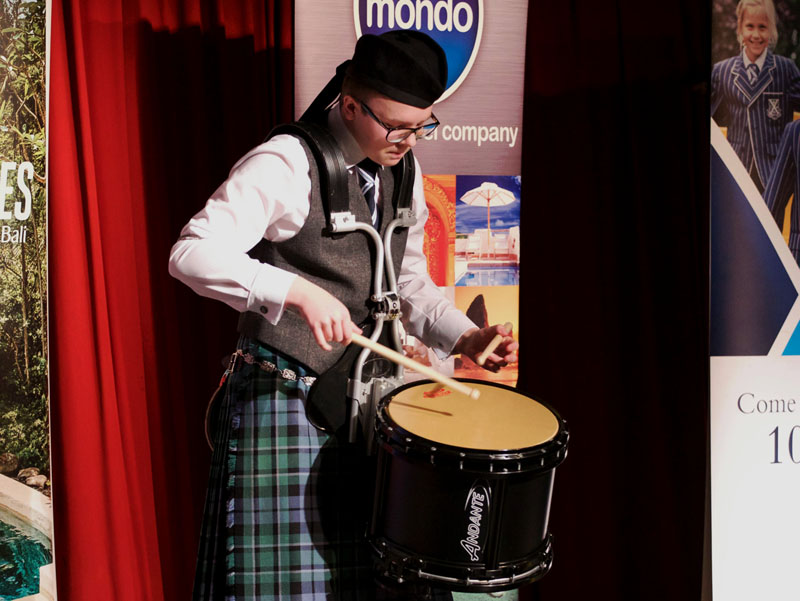 Christchurch, New Zealand – June 24, 2018 – Douglas Bilsland of Palmerston North, New Zealand, and a member of the Grade 1 Inveraray & District of Scotland, was the winner of the inaugural New Zealand Young Pipe Band Drummer of the Year competition, held at St. Andrew's College. Thirteen competed in the event, restricted to New Zealand residents, 18 or younger. Each performs an MSR, and the winner can't compete again in this event, allowing others a better chance to win the prize.
1st Douglas Bilsland (2,1,1)
2nd Callum Copeland, Invercargill, New Zealand (1,2,5)
3rd Becky Weir, Christchurch (3,5,2)
Judges: Andrew Womersley, Melbourne; Raymond Malcolm, Wellington, New Zealand; Ian Mowat, Invercargill, New Zealand.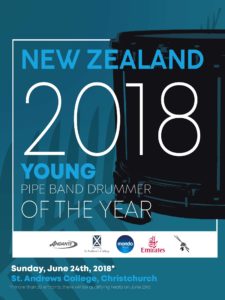 Bilsland received a NZ$1,500 travel voucher from Emirates airlines and Brenda Ogilvie of Mondo Travel, an Andante snare drum, and NZ$1,000 in cash.
The competition is organized by former Canterbury Caledonian Lead-Drummer James Laughlin and Lisa Laughlan's Come2Drum drumming education and retail company, and stemmed from the South Island Solo Drumming Championships, started in 2011.
"Our long-term vision was to provide a pathway for New Zealand's top young players to get to the home of pipe band drumming," James Laughlin said. "There seems to be a major focus on the A-Grade soloists and adult competitors, which is positive, however, I am a firm believer in investing over the long term. The true rewards come when we provide platforms for young players to challenge themselves.
"It is our goal to make the contest fair for everyone and reduce any possible conflicts or biases. We had a panel of three drumming adjudicators, one from the North Island, one from the South Island and an international judge. The contest will mean a great deal to those competing, so we feel it is our duty to provide them with a judging approach that is professional and integrity-centred."