Dunedin games all sunshine with blazing entry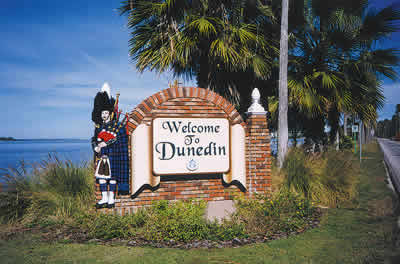 Only five years ago, the Dunedin Highland Games in Dunedin, Florida, saw, at most, only about six pipe bands and maybe 40 soloists entered. This year's event on April 6-7 will have at least 18 bands and more than 150 solo pipers and drummers participating in events across almost every grade.
The highlight of the weekend promises to the a four-band Grade 2 competition that, while small compared with most UK events, will make it one of the biggest in North America.
Entered to compete in the MSR and Medley Grade 2 contest are St. Thomas Alumni from Houston; Maryland's MacMillan, the Atlanta Pipe Band of Georgia, and the home town City of Dunedin.
"Several factors have contributed to the growth of the piping and drumming and band competitions," said organizer Moira Donaldson. "The expansion and development of the Dunedin piping and drumming programs within the schools and city bands; the attention given to the competition regarding format, schedule, judges, and stewards; and the development and support of the Dunedin Scottish Arts Foundation, which is our organization that presents the Dunedin Highland Games."
The games will also feature a wide variety of well-known judges, including several from the UK and Canada. Ken Eller, Terry Lee, Jack Lee, Stuart Liddell, Steven McWhirter, Gordon Parkes, and Robert Mathieson are among the adjudicators coming for the event, and Liddell will perform in a recital on the Friday afternoon.
The growth of the games coincides also with the appointment of long time Shotts & Dykehead and 78th Fraser Highlanders piper, Iain Donaldson of Buffalo, New York, to the city of Dunedin's Director of Piping position in 2010. In 2015, former Grade 1 lead-drummer Eric MacNeill of New York was made full-time drumming instructor. There are currently more than 100 pipers and drummers in the Dunedin program, competing with several bands.
+ Dunedin reins to be officially handed over to Donaldson
+ Dunedin hires MacNeill to take over drumming program
Donaldson took over from the late Sandy Keith, who ran the Dunedin program for more than two decades. The city of Dunedin was originally established by emigre Scots and celebrates and supports its heritage throughout the community.
[Disclosure: the editor of pipes|drums is also a judge at the Dunedin games.]