Ed Neigh: a personal piping recollection
By Jim McGillivray
The piping world, and Ontario in particular, lost one of its most knowledgeable and endearing personalities when Ed Neigh passed away on August 8, 2015. Ed's most successful pupil was twice Gold Medallist Jim McGillivray. They first met 45 years ago when Jim was 15 and Ed was just 25. It was the start of an astonishingly productive teacher/pupil relationship and a lifelong friendship. Jim has more than once referred to Ed as his "teacher, mentor and second father."
Below, Jim shares his candid memories of life with Ed in the early days, giving us a uniquely personal perspective on one of North America's most devoted and beloved piping figures.
Back in the fall of 1970, my three-year career with the Grade 3 Branch 50 Kitchener Legion Pipe Band ended due to Legion infighting. My mother had been born and raised in Stratford, Ontario, Ed Neigh's hometown, and was taught in school by Ed's father. I don't think she actually knew Ed, but the connection was close enough that she felt comfortable proudly announcing to him that her son would like to play in Ed's Guelph Pipe Band.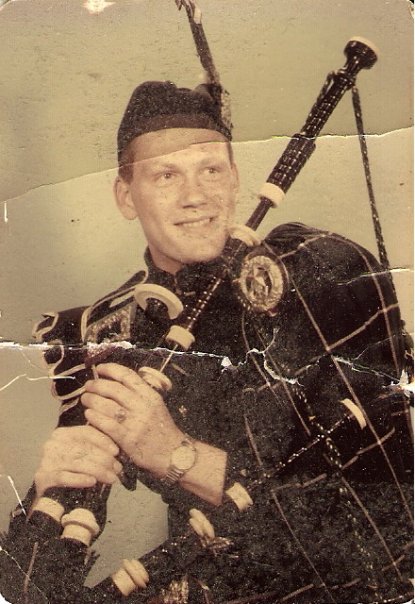 Ed had no idea who I was. In fact, I was a mediocre competitor in Grade 3 Amateur. I entertained no hope that Ed's up-and-coming Grade 2 band would want me. Nonetheless, I humoured my mother and we went to the infamous Guelph "band hut" for a tryout. I played a march, strathspey and reel for Ed. When I was finished, he had an impish grin on his face (those who knew him will know the grin). He told my mother without hesitation that I was welcome to join the band. I still don't know what he saw or heard in me at the time, but it was just like Ed to hear and see things that nobody else did.
I learned the band repertoire and Ed started giving me solo lessons after band practice. Solo lessons were part of the package. Ed believed your band got better as your individual players improved. Everyone was encouraged to compete. I was introduced to piobaireachd forthwith ("Black Donald's March") and as summer approached Ed suggested I forget about Grade 3 Amateur (I had earned just one third place the previous summer) and enter Grade 2. I was shocked, but I did as I was told. To my surprise I earned consistent prizes in my new grade immediately and won the first amateur piobaireachd contest I played in. Ed dragged me toward those prizes in spite of myself. He gave me the tools, built my confidence and I never looked back.
Such was piping life with the whirlwind of Ed Neigh. He could take you places you thought you had no business going. The smartest thing I did as his student was simply do everything he told me to do. We thrived on each other's enthusiasm and I thrived on his knowledge and his ability and eagerness to impart it.
Ed was an incessant thinker and talker, analytical and minutely perceptive. One of the fortuitous circumstances to occur at that time was that my parents' home in Kitchener was only a few minutes off Ed's route from Stratford (later Wellesley) to . . .