Fife Police mark a decade with Aberdeen concert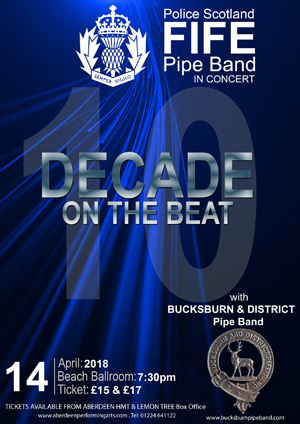 The Grade 2 Bucksburn & District of Aberdeen, Scotland, is once again assembling its annual spring pipe band concert, the eighth iteration pulling in the Grade 1 Police Scotland Fife, making it the first major show by the band, which has surged in the championship prize charts in the last few years.
On April 14, 2018, "Decade on the Beat" by Fife Police will also mark the 10-year anniversary of the band, which emerged from the roots of the Fife Constabulary, before the amalgamation of Scotland's regional police forces.
Laying claim to being "the best police pipe band in the world," Fife Police is led by the Double Gold Medallist Pipe-Major Douglas Murray and Lead-Drummer Mick O'Neill.
"Once again, we look forward to another amazing pipe band event in the heart of [Aberdeen] and will continue to keep this venture alive with exciting top Grade 1 bands entertaining the captive audience," said Bucksburn's band president Gus McAskill.
The concert will be mounted again at the Aberdeen Beach Ballroom, recently renovated in the heart of Aberdeen.
In addition to the Grade 2 band, the Bucksburn organization – now celebrating its seventieth anniversary – runs a Novice Juvenile band, and both will also perform with Fife Police. The Novice band's drum section was RSPBA Champion of Champions in the grade in 2017. The Grade 2 band made the prizes with a sixth at the British Championships, and qualified for the Grade 2 final at the World's for the first time in its history.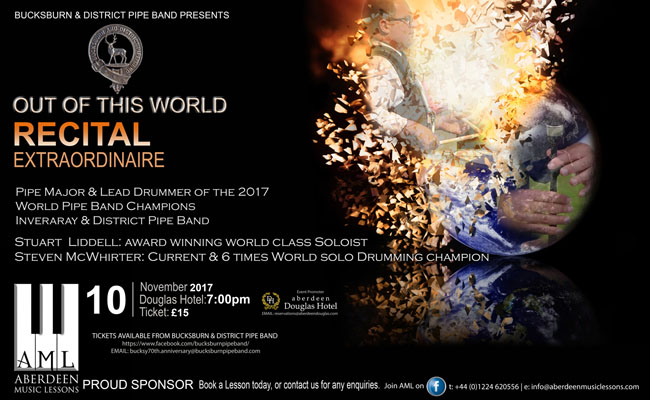 As part of its seventieth anniversary year, the band is also hosting an "Out of this World" recital by 2017 World Champions Inveraray & District's Pipe-Major Stuart Liddell and Lead-Drummer Steven McWhirter. McWhirter last week won his seventh consecutive and eighth career World Solo Drumming Championship. More than 250 tickets have already been sold for the November 10th event at the Douglas Hotel in Aberdeen, but McAskill said that a limited number of £15 tickets remain for the show.