McWhirter wins eighth World Solo Drumming Championship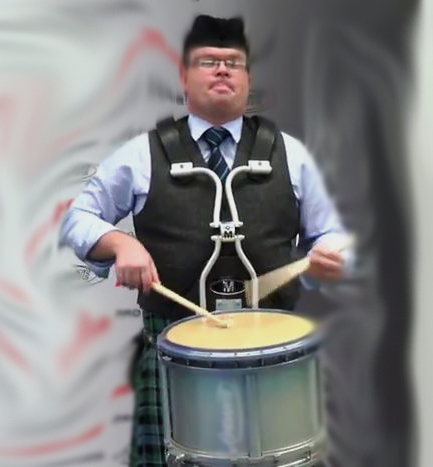 Glasgow – October 21, 2017 – Steven McWhirter of Inveraray & District edged steadily closer to the all-time record of 16 wins set by Jim Kilpatrick with his eighth RSPBA World Solo Snare Drumming Championship, held at Glasgow Caledonian University. It was McWhirter's seventh straight title, breaking his own record for successive victories.
A final round of 12 competed in MSR and Hornpipe & Jig events, the aggregate winning the overall prize. The adult final was narrowed from 37 in the semi-final, and 53 in the first round heats. Nineteen drummers were pre-qualified for the semi-finals based on results from last year's event.
Results from judges were widely scattered across almost all events, with as many as nine places in a 15-contestant event separating individual scores.
The competition was likely the final RSPBA event judged by Joe Noble, who was "aged out" as an RSPBA adjudicator after turning 75.
Snare Drumming
Overall
1st Steven McWhirter, Inveraray & District
2nd Michael McKenna, St. Laurence O'Toole
3rd Blair Brown, St. Thomas Alumni
4th Gareth McLees, Field Marshal Montgomery
5th William Glenholmes, Vale of Atholl
6th Christopher McNicholl, Inveraray & District
MSR
1st Steven McWhirter (1,4,3,2)
2nd Michael McKenna (4,1,5,1)
3rd Blair Brown (2,2,7,3)
4th Gareth McLees (6,3,2,7)
5th William Glenholmes (3,9,4,4)
6th Stephen Creighton, St. Laurence O'Toole (9,6,6,5)
Judges: Gordon Parkes, Jim Baxter, Arthur Cook,Paul Brown
Hornpipe/Jig
1st Steven McWhirter (1,1,1,1)
2nd Michael McKenna (4,3,2,9)
3rd Gareth McLees (6,5,7,2)
4th Christopher McNicholl (2,8,8,3)
5th William Glenholmes (9,2,6,4)
6th Grant Cassidy, St. Laurence O'Toole (10,4,3,6)
Judges: Joe Noble, Mick O'Neil, Alec Dudgeon, Stuart Coils
Juvenile
Group 1 – March
1st Tristan Jacquel, George Herriot's School
2nd Ewan McDonald, Boghall & Bathgate Caledonia
3rd Archie Jeffrey Smith, Dollar Academy
4th Callum Kyle, North Lanarkshire Schools
6th Matthew Creighton, Bucksburn & District
Group 2 – March
1st Danielle Lynn, Cullybacky
2nd Luke Cunningham, Boghall & Bathgate Caledonia
3rd Gregor Drury, Burntisland
4th Michael Matheson, Isle of Skye
5th Mariha Scott, Fraserburgh RBL
6th Ross Stevenson, Strathendrick
Group 3 – MSR
1st Blair Beaton, 78th Fraser Highlanders
2nd Kerr McQuillan, Boghall & Bathgate Caledonia
3rd Arrenn McWilliams, PSNI
4th Sebastion Arguelles, St. Thomas Episcopal School
5th Jamie Kerr, PSNI
6th Callum Nelson, North Lanarkshire Schools
Group 4 – MSR
1st Daniel Mulcahy, Closkelt
2nd Rachel Fairley, George Herriot's School
3rd Chloe Taylor, ScottishPower
4th James Strachan, George Watson's College
5th Lachlan Kyle, North Lanarkshire School
6th Cameron Lawson, Australia
Group 5 – MSR
1st Ryan Green, Glasgow Police
2nd Adam McCallum, Field Marshal Montgomery
3rd Reid Cameron, Boghall & Bathgate Caledonia
4th Cameron MacColl, Dollar Academy
5th Blair Logan, Glasgow Police
6th Greg Fullerton, Johnstone
Tenor Drumming
Group 1 – March
1st Fiona MacCall, Dollar Academy
2nd Gemma Dandie, Boghall & Bathgate Caledonia
3rd Aimee Read, Boghall & Bathgate Caledonia
Group 2 – March
1st Kiera Anderson
Group 3 – MSR
1st Emily Davidson, Boghall & Bathgate Caledonia
2nd Eilidh Ferries, Peterson Buchan
3rd Zara Pate, Boghall & Bathgate Caledonia
Group 4 – March
1st Cameron Sinclair, Vale of Atholl
2nd Zoe Abraham, Battlehill
3rd Holly Harrison, IDPB
Group 5 – March
1st Callum Smyth, Quinn Memorial
2nd Bethany Jack, Field Marshal Montgomery
3rd Rhiannon MacAleese, Shotts & Dykehead