Finlay Johnston takes London Championship, gains Glenfiddich invitation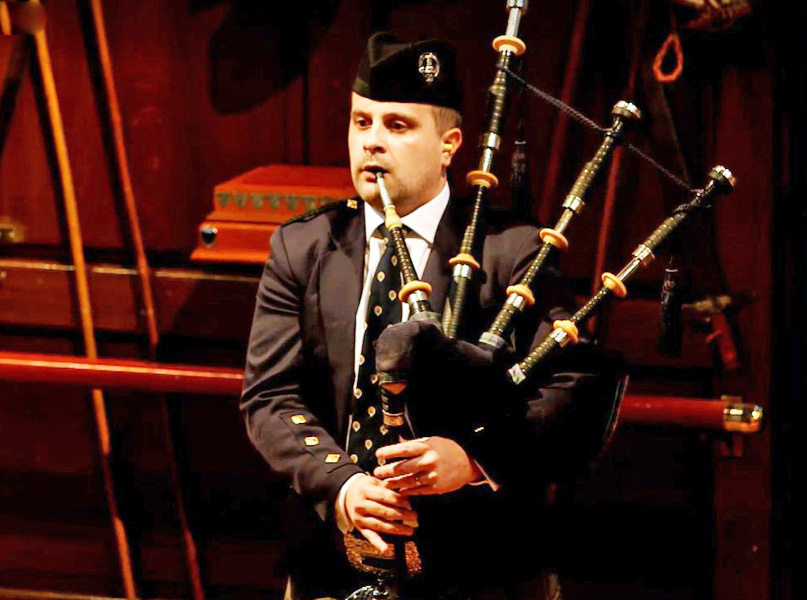 London – November 4, 2023 – Glasgow's Finlay Johnston was the big winner of the 2023 Scottish Piping Society of London's annual solo competitions, taking three of the four major Saturday events, only missing the Hornpipe & Jig contest.
For winning the overall, Johnston gets an invitation to the 2024 Glenfiddich Championship, where he will compete for his third title at Blair Castle in October.
The overall A-Grade champion was Craig Muirhead of Bannockburn, Scotland, while Glasgow's Bradley Parker took the aggregate B-Grade title.
The previous day of the competition, Roddy MacLeod of Glasgow won the Bratach Gorm for piobaireachd, also gaining an invitation to the Glenfiddich.
Open Piobaireachd (Gillies Cup, Premier & A-Grade)
1st Finlay Johnston
2nd Nick Hudson, Houston
3rd Glenn Brown, Glasgow
4th Bruce Gandy, Dartmouth, Nova Scotia
5th Andrew Donlon, Washington, DC
Judges: Bruce Hitchings, Roddy Livingstone, Colin MacLellan
Premier
MMSSRR (London Medallion, John MacFadyen Quaich)
1st Finlay Johnston
2nd Bruce Gandy
3rd Angus J. MacColl
4th Chris Armstrong
5th Alan Bevan
Judges: Jimmy Banks, Murray Henderson, Dixie Ingram
March (J.B. Robertson Bowl)
1st Finlay Johnston
2nd Chris Armstrong, Glasgow
3rd Angus D. MacColl, Oban, Scotland
Judges: Jimmy Banks, Murray Henderson, Dixie Ingram
Hornpipe & Jig (Mary Flora Beaton Cup)
1st Fred Morrison, Bishopton, Scotland
2nd Angus J. MacColl
3rd Roddy MacLeod, Glasgow
Judges: Ian Duncan, Hugh Jameson

A-Grade
Piobaireachd (R.G. Lawrie Snuff Mull)
1st Calum Brown, Petercoulter, Scotland
2nd Ben Duncan, Edinburgh
3rd Gordon Bruce, Kilwinning, Scotland
4th Derek Midgley, Tinto Fall, New Jersey
5th Angus J. MacColl
MSR (Strachan Cup)
1st Jamie Forrester, Haddington, Scotland
2nd Craig Muirhead
3rd John Dew, Edinburgh
4th Nick Hudson
5th Ben McClamrock, Washington, DC
Hornpipe & Jig (Donald Forbes Medal)
1st Craig Muirhead
2nd John Dew
3rd Gordon Conn, Calgary
Judges: Murray Henderson, Bill Wotherspoon
B-Grade
Piobaireachd
1st Cameron May, Lesmahagow, Scotland
2nd Anna Kummerlow, Germany
3rd Bradley Parker
4th Angus MacPhee, Inverness, Scotland
5th John Dew
MSR
1st Bradley Parker
2nd Brodie Watson-Massey
3rd Angus MacPhee
4th Dan Nevans, Glasgow
5th Keith Bowes Jr., Glasgow
Hornpipe & Jig
1st Angus MacPhee
2nd Brodie Watson-Massey
3rd Alastair Donaghy, Beragh, Northern Ireland