G1 pitches new 'B chanter' for expanded ensemble possibilities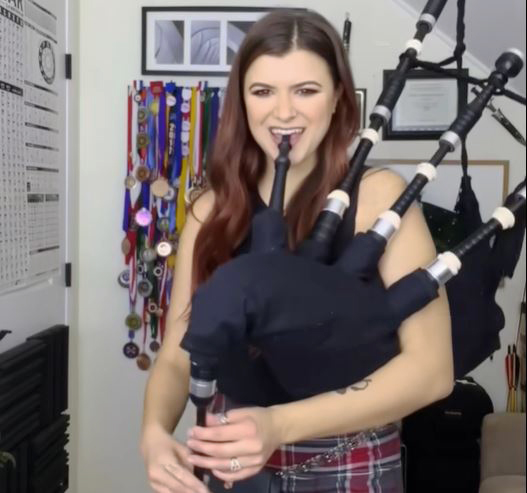 Inspired after the popular Highland bagpipe-playing metalhead Ally the Piper adapted one of their regular pipe band chanters, G1 Reeds of Kirkcaldy, Scotland, have introduced a pipe chanter pitched at true B with aim of accommodating the growing number of pipers who want to play with "other" instruments that have a hard time adapting to the unorthodox Highland bagpipe scale.
"We believe this is a first in the pipe band world," G1 director John Elliott said about the new chanter. "This isn't designed to be a competition chanter, but more to bring more musical possibilities to the Highland bagpipe. I got the idea to make the B chanter after seeing some of her videos where she has gouged the holes on one of our chanters and played a really sharp reed to get B. She really prefers the one we made because it can do much more."
While bagpipe makers offer chanters in A and B-flat, Elliott says that the G1 B chanter better enables pipers to play in more keys, such as B-mixolydian, B-major, B-minor, A-major, E-major, and E-minor.
"The G1 B chanter is able to be played with normal Highland pipes with the drones tuned lower on the pin, which is a bonus," Elliott added.
The B chanter pitches to concert B when on low A, and low G plays to concert pitch A, and so on.
The company has also offered a "Do chanter" for several years, often played by Breton bagads with shorter drones to allow for a C-minor scale. "The pipes are tuned to the note we call B, which is actually C : 445/447 on a chromatic tuner," Elliott said.
G1 now offers 10 varieties of their chanters in various pitches, the plastic ones all priced at £112.50 + shipping and tax. They offer the same chanter editions as "Plug and Play" (£133.33) that include a G1 chanter reed in six strength options. You can get a 10% discount on the new B chanter with the promo code Piper.Ally at checkout.
With nearly 280,000 subscribers to her YouTube channel, close to a quarter-million Instagram followers, and more than 1.3-million followers on TikTok, New York-based Ally the Piper is probably the world's most-seen player of the Highland pipes. After reaching Grade 1 Amateur competitive status, she stepped away from the EUSPBA competition circuit in 2016 to dedicate herself to "the world of creativity with the bagpipes, and trying to dismantle stereotypes about the instrument, and expand its boundaries."
Here's a Facebook video of Ally the Piper with the new chanter. The same video has gained almost 110,000 views on TikTok in less than a day.
Do chanters were used and made in Brittany well before G1 was asked to create one. The company's chanters are used widely by pipe bands, including Grade 1 Inveraray & District, with which Elliott is a piper.
Here's Bagad Kevrenn Alré competing with G1 Do chanters at the 2020 Breton Championships.