Greig Canning wins big at Blair
Blairgowrie, Scotland – September 3, 2017 – The usual large entry of solo pipers gathered for the annual Blairgowrie & Rattary Highland Games, a more relaxed atmosphere after the Northern Meeting and the weather was warm and dry. Greig Canning of Edinburgh was the overall winner of the Angus Hotel Challenge Shield, and John Dew of Perth, Scotland, took the Jimmie McGregor Memorial Quaich for overall success in the C-Grade events. Lewis Russell of Livingston, Scotland, winner of the MacGregor Memorial at the Argyllshire Gathering, took both firsts and the Region Centre France Cup in the Under-18 events.
As per the instructions of the late Jimmie McGregor, who was the original organizer of the piping at the games, the Open aggregate trophy goes to the competitor with the most points only for those who are graded Premier of A in piobaireachd, plus all in the Open light music.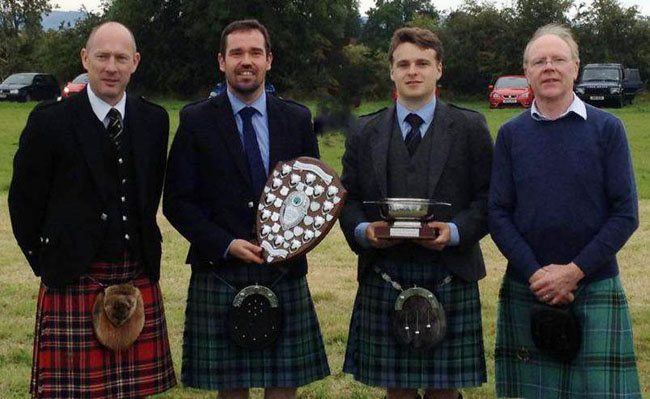 Open
Piobaireachd (Open Piobaireachd Quaich)
1st James MacHattie, Summerside, Prince Edward Island
2nd Sandy Cameron, Roy Bridge, Scotland
3rd Greig Canning
4th Ed McIlwhaine, Vancouver
Judge: Jack Taylor
March
1st Steven Leask, Glasgow
2nd Greig Canning
3rd Dan Lyden, Maryland
4th Jonathon Simpson, Bo'ness, Scotland
Judges: Douglas Murray, Stuart Samson
Strathspey & Reel
1st Ross Miller
2nd Steven Leask
3rd Sarah Muir, Glasgow
4th Eddie Gaul
Judges: Douglas Murray, Stuart Samson
CPA B-Grade
Piobaireachd
1st Steven Leask
2nd Sarah Muir
3rd William Rowe, New Zealand
4th Ursa Beckford, Maine
5th Ashley McMichael, Belfast
Judges: Patricia Henderson, Colin MacLellan
CPA C-Grade
Piobaireachd
1st Eireann MacKay
2nd Calum Brown, Peterculter, Scotland
3rd John Dew
4th John Cameron
5th Brian Mullhearn
Judges: Euan Anderson, Iain Speirs
March
1st John Dew
2nd Charlie MacDonald
3rd Eireann MacKay
4th John Cameron
Judges: Euan Anderson, Iain Speirs
Strathspey & Reel
1st Dan Nevans
2nd Charlie MacDonald
3rd John Cameron
4th John Dew
Judges: Euan Anderson, Iain Speirs
Under-18
March
1st Lewis Russell
2nd Lachlan Stephen
3rd Matthew Moir
4th Annabel Charlton
Judge: Anne Spalding
Strathspey & Reel
1st Lewis Russell
2nd Lachlan Stephen
3rd Matthew Moir
4th Ryan McCreadie
Judge: Anne Spalding