In video: the Grade 2 World's Final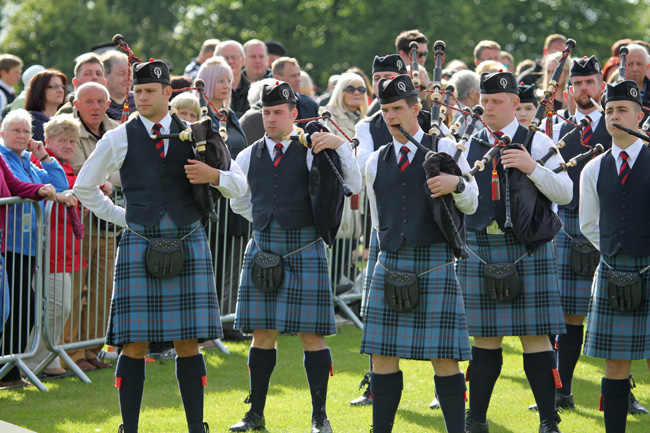 As in past years, pipes|drums dedicated staff time to capturing the Grade 2 Final of 12 bands at the World Pipe Band Championships.
This year's competition was a March, Strathspey & Reel, following Medley qualifying rounds of 12 and 11 bands in each section.
While most attention is paid to the Grade 1 elite, it's worth reminding readers that these Grade 2 bands are on their own extraordinary. Not a few of them will eventually go on to compete in Grade 1. Just like the Grade 2 Field Marshal Montgomery in the 1980s, St. Laurence O'Toole in the 1990s, a few might even eventually become the World Pipe Band Champion,
To recap, the result was:
1st Johnstone (Scotland) (1,1,2,2)
2nd Bleary & District (Northern Ireland) (6,2,1,1)
3rd Buchan Peterson (Scotland) (5,3,3,3)
4th Mackenzie Caledonian (Scotland) (4,4,6,5)
5th Police Service of Northern Ireland (ens.pref.) (7,5,5,4)
6th Lomond & Clyde (Scotland) (3,8,4,6)
7th Manorcunningham (Ireland) (9,7,7,7)
8th North Stratton (Canada) (2,9,12,8)
9th Pipeband Club (Australia) (ens.pref.) (11,10,9,9)
10th St. Andrew's (Australia) (10,6,11,12)
11th Torphichen & Bathgate (8,12,10,10 )
12th Balagan (Denmark) (12,11,8,11)
The judges were Robert Mathieson, John McCarlie (piping); Gordon Craig (drumming); John Moles (ensemble).
You might hear some peripheral talking in the Johnstone performance. This was an RSPBA official interrogating us nearly at the end of the competition about our media credentials. We apologize for this unfortunate intrusion on an important moment in pipe band history.
We present the bands below in their order of finish, and encourage you to consider the judges' rankings with what you hear. You be the judge!
We hope that you enjoy these videos, and congratulations to all of these bands on their remarkable success.