James "Jimmy" Blackley, 1927-2017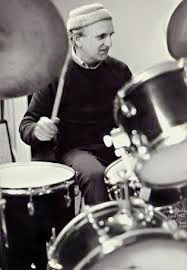 The world-famous drummer, Jimmy Blackley, died on July 16th in Barrie, Ontario, in his ninety-first year. Well known in the pipe band community, particularly in the 1940s and early '50s in Scotland, he immigrated to Canada in 1952 and taught pipe bands extensively before finding a niche in jazz drumming technique.
Born March 3, 1927, in Edinburgh, Blackley was an early graduate of the Scottish Pipe Band Association's College of Drumming. He competed in the shadow of other more well-known pipe band drummers like Gordon Jelly, George Pryde, Jimmy Catherwood and a young Alex Duthart, but Blackley between 1949 and '51 placed second, third, and fourth at the World Solo Pipe Drumming Championships, and was a lead-drummer of the Edinburgh Special Constables Pipe Band.
Referred to affectionately in Scotland as "The Bum," according to Donald Shaw Ramsay in his 1989 pipes|drums Interview, Blackley was one of five drummers chosen by Ramsay to record on several 78 rpm recordings. Ramsay was the piper and Catherwood, Duthart (then with Dalzell Highland), Jelly and Blackley each accompanied him on separate MSR tracks.
Blackley moved with his family to Montreal in 1952, and later became joined the Royal Canadian Air Force Pipe Band in Ottawa as a drumming instructor. He was active in pipe band drumming until he met the legendary drummer Max Roach, which would lead to Blackley starting a life in jazz drumming.
He lived in Vancouver from 1957-'67, and opened Jim Blackley's Drum Village, a retail store, and wrote and published Syncopated Rolls for the Modern Drummer in two volumes. These books had and continue to have a major impact in the non-pipe band drumming world. Jimmy Blackley lived in Manhattan from 1967 until 1973, where he operated a new drumming store and lectured at the Julliard School of Music before moving to Toronto.
There he re-emerged on the pipe band scene, allying himself with the 78th Fraser Highlanders Pipe Band in the mid-1980s. He was instrumental in connecting the band with jazz virtuoso Donald Thompson, who composed "Journey to Skye" expressly for the band. An often outspoken personality, Blackley had a few celebrated disagreements with luminaries in the pipe band drumming world, and once allegedly accused one of the world's greatest lead-drummers of having an incorrect left-hand grip.
Jimmy Blackley again mainly left the pipe band world in the 1990s, moving to Barrie, Ontario, in 1997, where he continued to teach drumming technique, publishing new books: The Essence of Jazz Drumming and three volumes of Rhythmical Explorations.
On behalf of the pipe band community, we extend our condolences to Jim Blackley's family and friends at this sad time.