Jim Kilpatrick to retire after World's (video)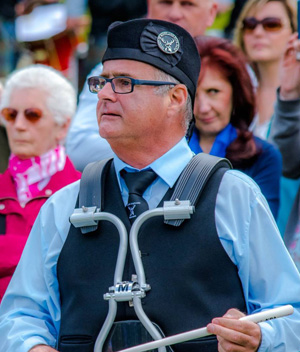 The World Pipe Band Championship will be the final competition for Jim Kilpatrick, without doubt the greatest pipe band drummer in history in terms of sheer number of competitions won.
Kilpatrick confirmed his decision with pipes|drums, saying that he will no longer compete following Grade 1 Spirit of Scotland's last event over the weekend at Glasgow Green.
"It's the right time for me to bow out," Kilpatrick said. "I feel I'm playing as well and maybe better than ever, but I wonder if everybody thinks that way about their performance levels. I feel I still have a lot to offer the pipe band drumming world, and could be even more effective if I am not actually competing."
Kilpatrick has won the World Solo Drumming Championship 16 times, by far the most victories of the event by any pipe band drummer, and, with bands, he has led Grade 1 corps to 17 World Pipe Band Drumming Championships, with one stretch of 11 consecutive World's wins. He remains the only lead-drummer to have won all five championships in a single year, when he accomplished the feat with his Shotts & Dykehead Caledonia section in 1991, which was also part of a record 11 consecutive drumming championship victories.
After more than 50 years in competing pipe bands and such success, the decision did not come easily for Kilpatrick.
Kilpatrick plans to continue his work as an executive with Pearl Percussion and with his own business, Jim Kilpatrick Percussion, teaching workshops around the world and privately from his home in Ashgil, Scotland.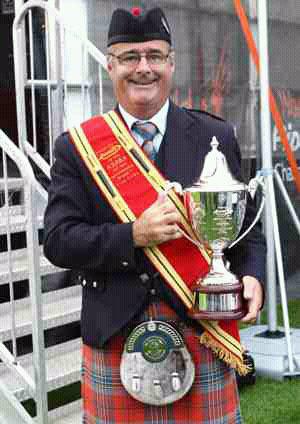 Kilpatrick came up through one of the first teaching systems developed, with Whitrigg Juvenile in his home town of Whitburn, West Lothian, Scotland. Whitrigg served as a feeder band in the 1970s for the Grade 1 Polkemmet Colliery Pipe Band, producing other famous players, including Robert Mathieson.
Kilpatrick would eventually join Shotts & Dykehead and Lead-Drummer Alex Duthart (last year chosen the greatest drummer of all-time no longer living by pipes|drums panel of experts) in 1972 at the age of 16. Kilpatrick would remain with one of the great drum sections of all time at Shotts, featuring the likes of Drew Duthart, Jim Hutton, John Scullion and Eric Ward, until he took the L-D position with Polkemmet in 1983, a band that fellow Shotts players Mathieson and Iain Roddick, to name a few, would also move.
Along with Mathieson, who succeeded Johnny Barnes as pipe-major in 1983, Polkemmet would emerge as one of the few threats to the great era of the Strathclyde Police under Pipe-Major Iain MacLellan, consistently finishing in the top-three by the time Kilpatrick and Mathieson were recruited back to Shotts to resurrect the renowned, but nearly-defunct, band in 1986.
At Shotts, Kilpatrick would be part of six World Pipe Band Championship victories over the 29 years he led the drum section, until he departed the band in 2015 following Shotts's most recent World's win.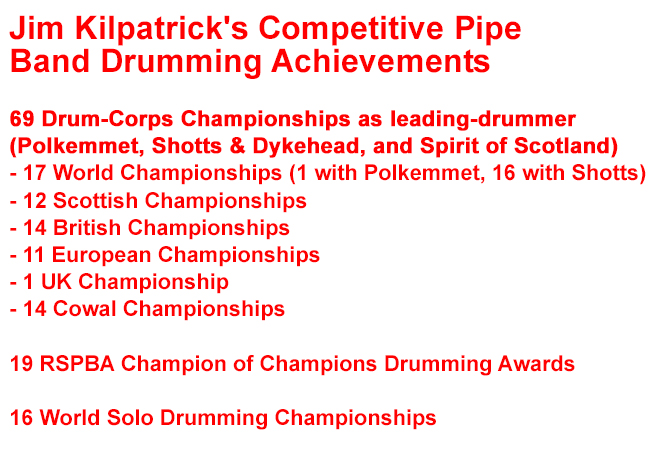 In early 2016, Kilpatrick, along with many recent and former members of his Shotts corps, became part of the re-formed Grade 1 Spirit of Scotland, the band of well-known available players that first came together for one week to compete at the 2008 World Championships, where it qualified for the Grade 1 Final and ultimately finished eleventh. [Disclosure: the editor of pipes|drums is a member of Spirit of Scotland.]
In 2016, Spirit of Scotland has played at all four championships so far, placing at three, and winning the drumming at the UK Championships at Belfast in June.
"For many reasons, this has been one of the best years ever in my pipe band career," Kilpatrick concluded. "This is down to all of the genuine people that are part of the band and the fact that every single player knows what to do and how to do it. I get goosebumps when I look at the pipe corps standing in front of me in the circle. Another reason is the loyalty the drum corps has shown, not only to me, but to each other. Nobody will realize the depth of friendship and support that we all have for each other.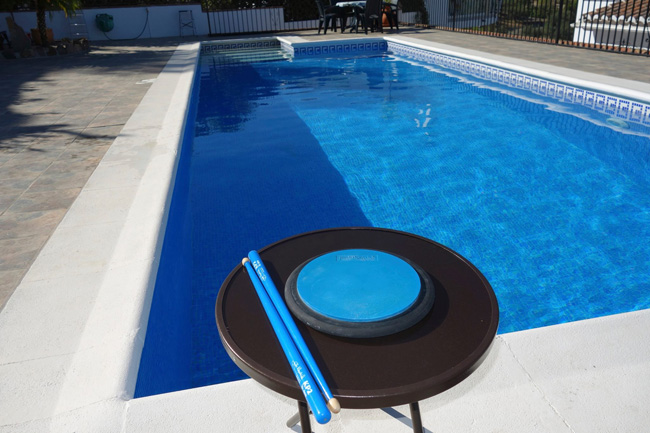 "I think we all learn never to say 'never,'" Kilpatrick added, "but I am definitely going to retire from the competitive side of drumming, and the 2016 World's will be my last performance."
Accompanied by Spirit of Scotland Pipe-Major Roddy MacLeod, Jim Kilpatrick will perform solo likely for the last time while still active in competition at the annual Pipes+Drums recital, sponsored by pipes|drums and free to all, at Piping Live!, at 2 pm, Tuesday, August 9th, at the Street Café outside of the National Piping Centre.
Readers are invited to leave a comment about Jim Kilpatrick's career and contributions to pipe band drumming using either our own system or Facebook below.