John Wakefield, 1932-2015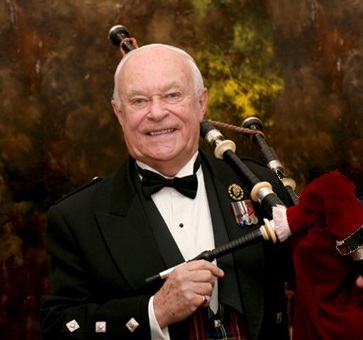 John Wakefield, the well-known former Pipe-Major of the Toronto Scottish Regiment Pipe Band, died on September 5th, aged 83.
He began his piping career with the Rotary Highlanders Pipe Band in the 1950s and became its Pipe-Major, before moving on the 48th Highlanders of Canada Pipes & Drums, beginning a long career with the Canadian militia.
Wakefield joined the Toronto Scottish in 1957, becoming pipe-major in 1962 until 1968. He returned as pipe-major of the regiment in 1970, until he retired in 1980.
He received the Canadian Forces Decoration and was made a Member of the Order of Military Merit for his service with the Canadian Forces, rising to the rank of Chief Warrant Officer. He was appointed piper for the Lt. Governor of Ontario in the latter part of his life.
Following his competing days, John Wakefield was a frequent piping adjudicator on the Ontario circuit for much of the 1960s, '70s and '80s, and was a regular presence at the regional games
The visitation is from noon until 2 pm on September 11th at the Ridley Funeral Home, 3080 Lakeshore Blvd. West, Toronto, followed by a short service in the Ridley Chapel.
At this sad time, we extend our sympathies to John Wakefield's family and friends.