Jim Kilpatrick steps down from Shotts; Blair Brown new L-D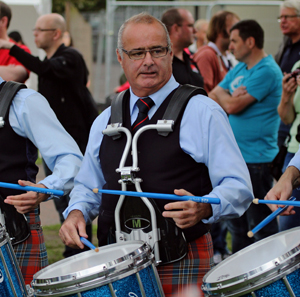 Jim Kilpatrick, the greatest competitive pipe band drummer in history, has announced that he will step down as leading-drummer of the Shotts & Dykehead Caledonia. Long-time corps drummer Blair Brown has been appointed to the role.
After 29 years with the band, Kilpatrick has amassed an unmatched array of competition success, both in bands and as a soloist. He has guided Shotts to 60 major drum corps titles, including 16 World Drum Corps Championships (a record 11 straight, 1988-'98), in addition to several championship wins with the now defunct Polkemmet Pipe Band, where he was leading-drummer for six years before joining Shotts in 1987. As Shotts leading-drummer the band won 31 major championships and six World's, five with Pipe-Major Robert Mathieson and this year with Pipe-Major Ryan Canning.
Kilpatrick is the only leading-drummer in history to win the Grade 1 band drumming "Grand Slam," when in 1991 the Shotts corps won all five RSPBA majors.
His solo career is equally illustrious, winning a record 16 World Solo Drumming Championships.
In 2004 he was named a Member of the British Empire for services to music.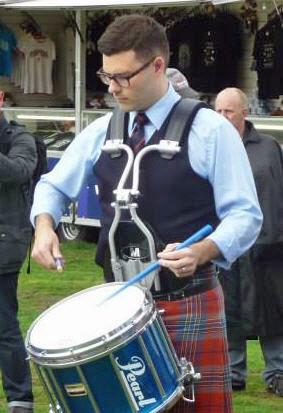 New leading-drummer Blair Brown, 32, a native of Milton, Ontario, and currently living in Portland, Oregon, has been a member of Shotts for a total of eight seasons, playing under Kilpatrick from 2002-'07 and re-joining Shotts in 2013 after stints with the Grade 1 Simon Fraser University, Peel Regional Police and 78th Fraser Highlanders bands. With Shotts he has been a part of 17 major drum corps titles, including four World Drum Corps victories; and nine major band titles, including three World Championships. As a solo player he has featured in the top-six at the World's eight times, and finished in the top-three for the last four years.
Brown plans to move to Scotland permanently in the next few months.
"It's an honour and a privilege to take on the role of leading-drummer at Shotts," Brown said. "I was seven years old when I first heard the band, and from an early age I tried to model my playing on what I heard, and saw from Jim and the Shotts corps. Jim has been a huge influence in my life. He has been a mentor and role model for most of it, and it's been an amazing and invaluable learning experience being able to play with him in his corps. Having committed so many years to Shotts, I understand the weight of the job ahead, and I believe I'm ready for the challenge. I'm very excited, and am really looking forward to working with Ryan and the band."
Blair Brown's brother, Glenn, is pipe-sergeant with Shotts, and the Brown brothers' mother, Gail, was a member of the band in the 1970s, one of the first females to compete with a World Championship-winning Grade 1 band.
"Jim Kilpatrick is the most successful leading drummer of all time," Shotts pipe-major Ryan Canning said. "The fact that he has kept his corps at the top for almost three decades is remarkable. Over the last three years, Jim has helped ensure a transition from a challenging time for the band, back to a very healthy place with this year's World Championship win. These have been special years for everyone involved, and Jim has been a huge part of that. Anyone who follows an iconic leader like Jim will certainly have big shoes to fill. However, Blair's competitive track record speaks for itself, and I believe that there is no better candidate than Blair to take over the Shotts corps. Blair shares the band's philosophy of hard work and determination which Jim fostered before him, and I'm really excited for the next stage ahead."
It is not known if the 59-year-old Kilpatrick will step away from competing altogether. He continues his professional work with Pearl Percussion.
Shotts & Dykehead Caledonia as much as any band in the world has had a tradition of great drumming leadership, with the legendary Alex Duthart running the corps for many years. World Solo Champion John Scullion was also a prominent leading-drummer in the 1980s.