Larry Fullerton, 1949-2019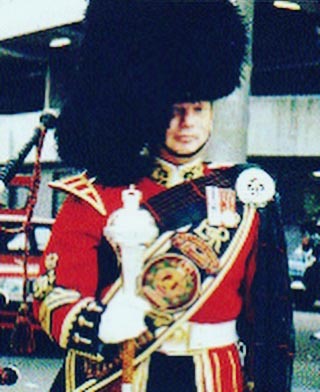 The well-known Ontario pipe band personality Larry Fullerton died on April 18, 2019, succumbing to stomach cancer at the age of 71.
Most recognized for his role as the long-time drum-major with the 48th Highlanders of Canada, Fullerton was a familiar face as the reliable leader of massed bands at most Highland games in Ontario during the 1980s and 1990s. He held the rank of Master Warrant Officer in the 48th, which he joined in the 1960s.
In 1971, Fullerton was made Regimental Drum-Major of the Toronto-based part-time militia infantry regiment, holding the role until 1996. While he was identified throughout his life an award-winning drum-major, Fullerton was also an accomplished piper, taught by the great 48th Highlanders of Canada Pipe-Major Archie Dewar, and often playing in the competition ranks of the 48th. He departed the band to become pipe-major of the then-Grade 3 400 Squadron Pipes & Drums, but returned in 2004 before retiring in 2007.
Professionally, Fullerton was a professor of geography at Ryerson University in Toronto, and, until his untimely death, was head of the department. He had a specialty interest in battlefield geography, and co-authored a seminal analysis of the World War I battle of Ypres, and the gas attack that struck many Canadian soldiers.
He was the recipient of the Commemorative Medal for the Silver Jubilee of Her Majesty Queen Elizabeth II, the Commemorative Medal for the Golden Jubilee of Her Majesty Queen Elizabeth II, and held the Canadian Forces Decoration with three bars.
His passing comes almost on the eve of the annual Toronto Indoor Games, held at Moss Park Armoury, the home of the 48th Highlanders of Canada.
Larry Fullerton will be remembered as a congenial but commanding presence around the Ontario pipe band circuit. On behalf of the world's pipers and drummers, we extend sympathies to his many friends and family at this sad time.