Lewis edges Hudson on Midwest piping exploration
Palatine, Illinois – May 14, 2016 – Andrew Lewis of St. Paul, Minnesota, was the overall winner of the inaugural Midwest Pipe Band Association Professional Solo Piping Contest, held at the Presbyterian Church of Palatine. Contestants submitted four piobaireachds and four MSR sets, with one of each picked by the judges, Brian Donaldson and Donald McBride. Total prize money was US$3,500. The event was the culmination of a winter season of seven indoor competitions for the MWPBA.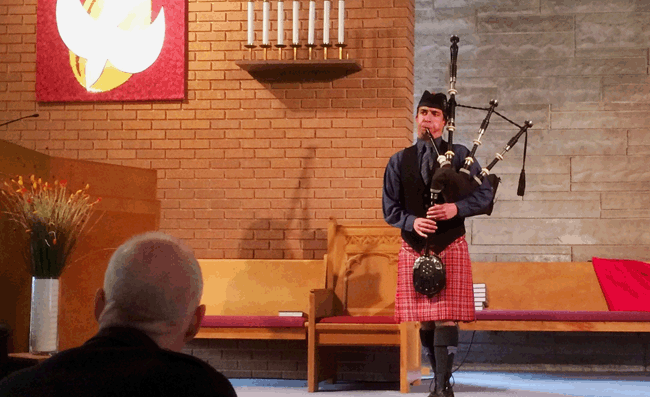 Piobaireachd
1st Nick Hudson, Pittsburgh, "Lament for the Laird of Anapool"
2nd Andrew Lewis, "The Park Piobaireachd" No. 2
3rd Andrew Carlisle, Pittsburgh, "Lament for Donald Duaghal Mackay"
4th Dave Mason, Cincinnati, "Mackintosh's Lament"
MSR
1st Andrew Lewis "The Braes of Castle Grant," "Susan MacLeod," "John Burgess's Reel"
2nd Andrew Carlisle "The 71st Highlanders," "Susan MacLeod," "Bessie McIntyre"
3rd Nick Hudson, "Brigadier General Ronald Cheape of Tiroran," "P-M Hector MacLean," "Ca' the Ewes"
4th Matt Pantaleoni, St. Louis, "The Braes of Castle Grant," "John Roy Stewart," "Lochiel's Awa' to France"
Also competing but not in the prizes were Adrian Melvin, Batavia, Illinois; and Alastair Murray, Pittsburgh.