Liddell will help launch Livingstone book at PL!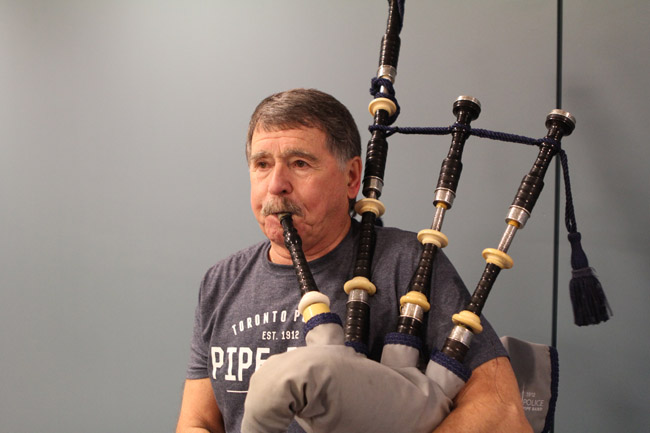 Bill Livingstone's memoir, Preposterous, Tales to Follow, will be officially launched at an event hosted by renowned piper and Inveraray & District Pipe-Major Stuart Liddell at Piping Live! on Thursday, August 10th, from 4:30 to 5:30 pm, at the National Piping Centre in Glasgow, and sponsored by McCallum Bagpipes.
Livingstone will read passages from the book and field questions from the audience at the event. The launch is one day before the start of the World Pipe Band Championships, which marks the 30th anniversary almost to the day since Livingstone led the 78th Fraser Highlanders to the title in 1987.
Also confirmed, pipes|drums will publish a series of exclusive excerpts from the book beginning next week. The featured pieces will be selected personally by Livingstone.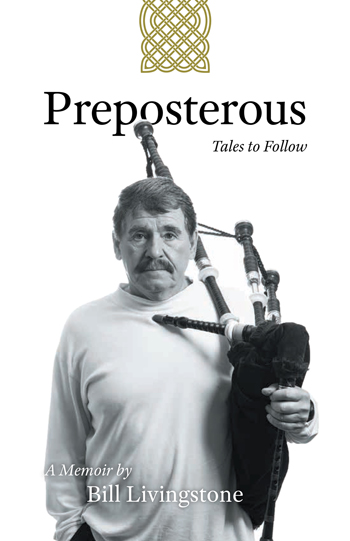 "pipes|drums is pleased to be the only source for advance previews of Preposterous," said editor Andrew Berthoff. "It's a book with international appeal, so it's appropriate that an international media outlet like ours brings this to pipers and drummers worldwide."
Copies of the book will be available for purchase at the launch, and Livingstone will be happy to sign them. Attendees of the event are advised to make an advance order on the National Piping Centre's Bagpipe Shop no later than 5 pm, Friday, July 21st, to be sure that their copy is ready for them at the launch.
Preposterous: Tales to Follow is also available directly from Livingstone's website and book sellers around the world starting on August 1st.
"We are proud to support Bill for this special event at Piping Live," said Kenny Macleod, founding partner of McCallum Bagpipes, in a statement. "Our company has a long history of investing in piping and drumming's biggest trailblazers and we wish Bill every success in his latest venture."
"Bill is one of the greats of bagpiping in the modern era," Liddell said. "I am delighted to be involved in this once-in-a-lifetime event and look forward to seeing everyone in Glasgow."
Liddell has spoken about the piping inspiration he took from the 1987 Live In Ireland recording of the 78th Frasers' famous concert in Ballymena, Northern Ireland. He was part of the re-enactment concerts in 2016 and 2017 in Glasgow and Belfast, respectively.
+ An appetite to relive past glories
+ 87 78: reflections on the past
+ Legacy and memories captured
"McCallum Bagpipes has been a dedicated supporter of my projects over the years and those of so many others, including Piping Live. I am honoured to be working with them again." Livingstone commented in a statement. "I am also delighted to have Stuart Liddell on board as host of the celebration. Stuart will bring an unparalleled level of warmth, humour and fun to this special event."
To see Bill Livingstone's record of major solo prizes, search his name on the pipes|drums Big Prizes database.
[Disclosure: the editor of pipes|drums edited the first draft of the memoir and provided initial advice to the author.]