"Live In Ireland 87 In Scotland" on for Celtic Connections
Twenty-nine years after the concert took place in Ballymena, Northern Ireland, resulted in a landmark recording for the pipe band world, the music of "Live In Ireland" will be re-orchestrated in a show at the 2016 Celtic Connections festival in Glasgow in January 2016.
The brainchild of former 78th Fraser Highlanders Pipe Band Leading-Drummer (and current Simon Fraser University L-D) Reid Maxwell, surviving members of the band from 1987 and several special guests will deliver items like "Journey To Skye," "The Mason's Apron," and "The Clumsy Lover," which took the world by storm, and, in some ways, set a new direction for pipe band music.
The show is set for the afternoon of January 30, 2016, at Glasgow's Royal Concert Hall, with tickets becoming available on August 10th during the 2015 Piping Live! festival.
In addition to Maxwell, former Pipe-Major Bill Livingstone and piper Michael Grey are on board for the event, and members of the 1987 band such as Bruce Gandy, Iain Donaldson, Brian Pollock and drummer Stu Liddell, as well as Tom Bowen, who is a piper with the current 78th Frasers Highlanders are confirmed. Sean Allan, son of the late bass drummer Luke Allan, will take the big drum. Sean Allan was a tenor drummer with the band in 1987. Former Pipe-Sergeant John Walsh and pipers Mike Baker and Syd Girling declined the invitation to participate.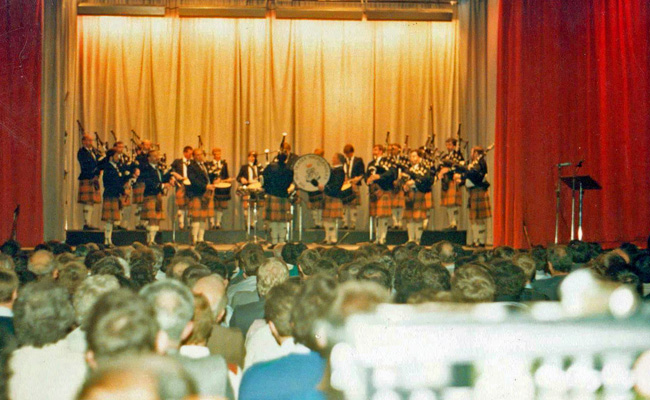 Pipers from the 1987 band who were interested in participating but have been relatively inactive in Grade 1 bands reportedly had to submit an audition recording of the difficult eight-part reel "Charlie's Welcome," which was a signature piece for the band for many years.
Joining members from the '87 band will be some of the pipe-majors and leading-drummers from today's UK-based Grade 1 bands, including . . .