Livingstone memoir nears publication
Autobiographies by great pipers are few and far between, with scant examples like Angus MacPherson's A Highlander Looks Back and John Wilson's A Professional Piper in Peace and War, and shortly the legendary Bill Livingstone will release Preposterous: Tales to Follow, a memoir of his life so far professionally published by the well-established Friesen Press, of Victoria, British Columbia.
The Ontario-based piper and pipe band leader is one of the greatest in history, and he remains the first and only person to have won both a Clasp at the Northern Meeting (twice) and lead a band to a World Pipe Band Championship, in 1987 with the 78th Fraser Highlanders.
Livingstone withholds almost nothing in the book, as he traces his life from his childhood growing up in the remote North Ontario town of Copper Cliff, to his complicated family life, to his teenage life as a keyboard player with the rock band The Coppertones, through his formative piping years and on through the decades.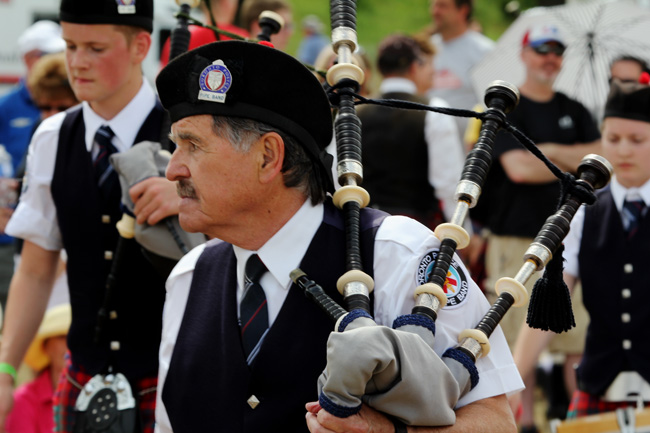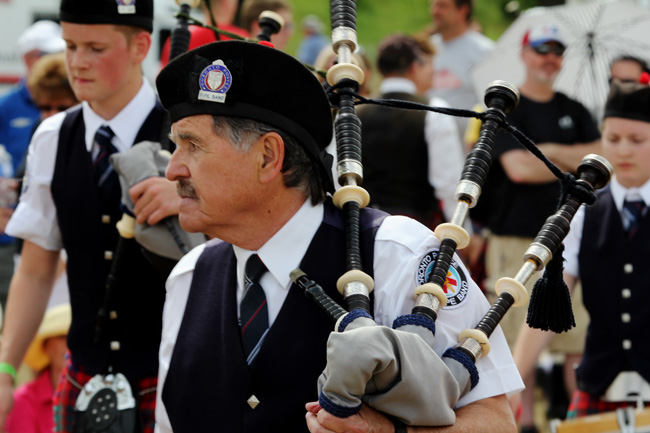 "I detail the remarkable story of my growing up in a company town, Copper Cliff, class separation, full-on paternalistic control of the denizens, my amazing and, some will say, fairly weird family life, which in all was/is a blessing," Livingstone said about the book. "I was perhaps one of the only pipers ever to have tuition from many greats: John Wilson, John MacFadyen, Capt. John MacLellan, Donald MacLeod and Andrew MacNeill. These encounters are richly detailed."
Livingstone adds that "there are many crazy stories of weird and wacky encounters with major and minor characters in the world of piping and pipe bands. I duly rant against the artistic strictures and monetizing caused by the World Pipe Band Championship."
Preposterous: Tales to Follow promises a detailed section on his approach to music composition generally and especially for the bagpipe. Livingstone is one of the more successful composers and arrangers of pipe music.
"I have tried to be what I am, which is a guy with strong beliefs, and unafraid to share them," he continued. "In the telling of so many anecdotes about people it's been my intention to get to the truth, but not to hurt anyone recklessly."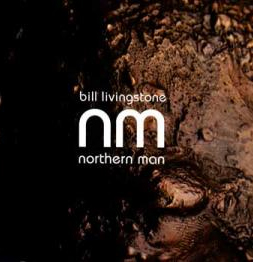 He said that the 78th Fraser Highlanders Pipe Band, of which he was pipe-major from 1981 until 2010, gets "a lot of attention, especially to that indefinable quality which made the band unique."
Those who know Livingstone, will recognize his ability to recount hilarious stories and a razor-wit, with plenty of anecdotes, including his famous and shocking confrontation with the great Robert Nicol in a post-contest beer tent, being told by Nicol that he was playing a piobaireachd "wrong."
"It's been both fun and painful to write, and I had no idea that it would take five years of effort to get it here," Livingstone said. "Writing, re-writing, researching, following professional editorial advice, and re-writing again. And I still have to choose from the hundreds of photos I want included."
Preposterous: Tales to Follow will be available in various format, with a release of October 2016 targeted.
Livingstone also said that he is working on remastering various existing solo recordings, including his 2008 Northern Man project, and is also recording the sixth, seventh and eighth installments to his Piobaireachd Diary of commentary on and playing of his favorite piobaireachds.
At age 74, Bill Livingstone shows no sign of stopping competing, and is currently a member of the Grade 1 Toronto Police Pipe Band.
Disclosure: the editor of pipes|drums assisted Livingstone with editorial and professional advice through the first-draft of the book.