MacHattie rises to Principal at College of Piping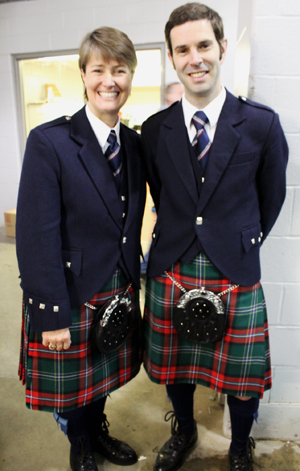 James MacHattie will take on the newly created role of Principal of the College of Piping & Celtic Performing Arts at Summerside, Prince Edward Island, Canada, after Executive Director Karen Hatcher decided to move on after six years with the organization.
MacHattie joined the organization in 2010 in the role of Director of Education. The College of Piping's structure now reflects that of the National Piping Centre in Glasgow, and the two institutions have partnered successfully on several projects in recent years. The Executive Director position will be phased out and the college will recruit a Business Manager to handle administrative tasks while MacHattie concentrates on the curriculum.
Hatcher also joined the College of Piping in 2010 at a time when the organization has gone through some uncertainty following the untimely death in 2008 of founding director Scott MacAulay. She had originally intended to stay for only five years.
"The financial stability, although still a work in progress, is much more manageable than when she first arrived," the organization said in a statement.
Over the last six years, Hatcher and MacHattie worked to put the organization back on solid financial and reputational ground. Last year MacHattie confirmed "external credentialing" for schools, meaning that students at the college can obtain high school credits through its programs.
"This has been the most challenging, yet rewarding, position of my career," Hatcher said. "I had a five-year plan that turned into six years. I am so incredibly proud of what our team has accomplished in this time. I am incredibly proud of the facility, the instructional programs, the summer events, the team of volunteers and the team of instructors and staff. Everything that happens at the College of Piping is a result of teamwork. It will be very difficult to bid farewell, but it's time for me to move on to my next adventure, leaving the organization in the capable hands of James. He will continue to inspire excellence in all he does."
The College of Piping operates three competing bands, in Grade 2, Grade 4 and Grade 5. Originally from Saskatchewan, MacHattie is one of the world's top-tier competitive solo pipers. Before moving to Prince Edward Island, he was Pipe-Major of the Grade 1 Toronto Police Pipe Band, winning a North American Pipe Band Championship, and before that he was a member of the Grade 1 Simon Fraser University Pipe Band.