McLean wins 33rd annual Nicol-Brown
Albany, New York – October 10, 2015 – Kevin McLean of Maple Ridge, British Columbia, was the overall winner of the 33rd annual Nicol-Brown Memorial Amateur Invitational Solo Piping Competition, held at St. Paul's Episcopal Church. McLean gained the aggregate prize after receiving a first in the Piobaireachd and a second and third in the 6/8 Marches and MSR, respectively, finishing one point ahead of Tyler Bridge. All of the events were judged by Callum Beaumont. McLean receives airfare to compete at the Scottish Pipers Society of London competition in November 2016 and an McC2 pipe chanter with a custom-designed sole, donated by McCallum Bagpipes. pipes|drums was a sponsor of the event.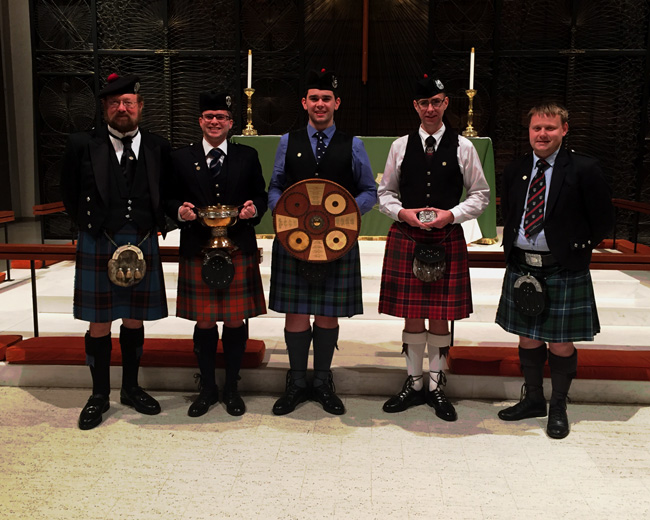 Overall
1st Kevin McLean
2nd Tyler Bridge, Guelph, Ontario
3rd Christian Rhoads, St. Louis
4th Maeghan Bielski, Middleboro, Massachusetts
Piobaireachd Robert Nicol-Robert Brown Chalice
1st Kevin McLean, "The Red Speckled Bull"
2nd Tyler Bridge, "The Big Spree"
3rd Laureano Thomas-Sanchez, Cleveland, "The Battle of Aldearn" No. 1
4th Christian Rhoads, "MacLeod's Controversy"
5th Maeghan Bielski, "Lament for the Departure of King James"
MSR (William Ross Challenge Targe)
1st James Dyson, Dartmouth, Nova Scotia, "Leaving Lunga," "Loch Loskin," "The Sound of Sleat"
2nd Maeghan Bielski, "Royal Scottish Pipers' Society," "The Islay Ball," "The Brown Haired Maid"
3rd Kevin McLean, "Miss Elspeth Campbell," "The Ewe wi' the Crookit Horn," and "The Smith of Chilliechassie"
4th Tyler Bridge, "Donald MacLellan of Rothesay," "Highland Harry," "Thomson's Dirk"
5th Christian Rhoads, "Colin Thompson," "John Roy Stewart," "Alick C. MacGregor"
6/8 March (Donald MacLeod Memorial)
1st Tyler Bridge, "The Bonawe Highlanders," "Dundee City Police Pipe Band"
2nd Kevin McLean "Cameron MacFadyen," "Jean Mauchline"
3rd Christian Rhoads ,"Jean Mauchline," "Capt. C.R. Lumsden"
4th Laureano Thomas-Sanchez, "P-M Charles Timmers," "George Sherriff"
5th James Dyson "The MacNeils of Ugadale," "All the Blue Bonnets are Over the Border"
Also competing but not in the prizes: Allyson Crowley-Duncan, Latham, New York; Andrew Hutton, Brantford, Ontario; Blaise Theriault, Halifax, Nova Scotia; and Jack Toohey, Newberg, Oregon.